Mario Vargas Llosa, The Storyteller & The Gourd
Tuesday, October 31, 2006
In 1989 I read Mario Vargas Llosa's whimsical
The Story Teller
about a long lost classmate by the narrator of the novel. Raúl Zuritas (the long lost classmate) is a red haired Jew, terribly scarred last seen in Israel. But in a small gallery in Florence, our protagonist (fleeing the political turmoil of Peru) happens on an exhibition of photographs from the Amazon jungle. One of the photographs shows a tribal storyteller seated in the middle of a circle of Machiguenga Indians. This tribe, until the late 80s, had been completely isolated from civilization. That the tribal storyteller is a dead ringer for
Mascarita
, is the mystery that opens this fascinatingly easy to read Llosa novel. Perhaps it was easy after having read the serpentine
Conversation in the Cathedral
.
"Florentines are famous, in Italy, for their arrogance and for their hatred of the tourists that innundate them each summer, like an Amazonian river. At the moment, it is hard to deterimine whether this is true, since there are virtually no natives left in Firenze. They have been leaving, little by little, as the temperature rose, the evening breeze stopped blowing, the waters of the Arno dwindled to a trickle, and mosquitoes took over the city. They are veritable flying hordes that successfully resist repellents and insecticides an gorge on their victims' blood day and night, particularly in museums. Are the zanzare of Firenze the totem animals, the guardian angels of Leonardos, Cellinis, Botticellis, Fillipo Lippis, Fra Angelicos? It would seem so. Because it is while I am contemplating their statues, frescoes, and paintings that I have gotten most of the bites that have raised lumps in my arms and legs neither more nor less ugly than the ones I've gotten every time I've visited the Peruvian jungle."
The Storyteller, Mario Vargas Llosa
Later in 1990 I bought three intricately carved gourds (
mates berillados
) in a market near Callao in Peru. The smallest is called:
Historia: El Hechicero Curandero
, (The Story: The Wizard Healer). The gourd brought from Chiclayo or Piura and carved in Cochas Grandes and Cochas Chico (near Huancayo) is signed by Silvia Alanya Vo. When I look at this 7cm long gourd I can imagine
Mascarita
weaving stories of the fabled and magical Macheguengas before men started walking.
"There was no evil, there was no wind, there was no rain."
Don Harron, Katherine Hepburn & Old Prune
Monday, October 30, 2006
Just a few days ago I saw a wonderful interview of Katherine Hepburn by Dick Cavett that originally was aired on September 14, 1973. It made me think of my photo date with Don Harron about 6 years later. Les Wiseman and I had an appointment with him at a hotel on Denman Street. As we entered the hotel I noticed Mr. Harron coming out of the elevator and going out. I stopped him and pointed out that we had an interview. He was anoyed and said that it was impossible. He looked at Les and I and said, "I was a journalist once. Let's go upstairs and I will grant you a quick interview."
In his room, during the interview he explained to Wiseman how he had once been "discovered" backstage by Katherine Hepburn. He then went into a luxury of detail to explain how Ms Hepburn's skin resembled a dried old prune.
When it was my turn to photograph him he said, "Guess who is going to photograph me tomorrow? " Without giving me time to guess he said, "Karsh of Ottawa."
I removed a deep green filter from my camera bag and screwed it on to the front of my lens. Harron, asked, "What's that for? " "To make your skin resemble Katherine Hepburn, " I told him.
In my 32 years in Vancouver this may have been the first and last time that I ever made anybody look worse than they looked.
One Screen Siren Less
Sunday, October 29, 2006
One of the advantages of being a photographer is that sometimes you can get away with the cliche, "I am a photographer and I think you are beautiful. I would like to photograph you." My percentage of success is in the high 90s! I was lucky to photograph B.H. once and here is one of my favourite pictures of her. I don't remember why I asked her to look sad at my camera. But the photograph captures how I now feel seeing that she is gone back east.
Of her change B. " It's a bittersweet change--I'm going to miss you all and this city that is my home--but I know I'll be back in the not-too distant future."
It is my hope that she returns soon as I would like to re-photograph her, this time I would ask her to wear a smile.
To The Ends Of The Earth & Crossing The Equator
I am a sucker for seafaring yarns and I have read all of Patrick O'Brian's Aubrey/Maturin novels twice plus
Golden Ocean
and
The Unknown Shore
. I have read several Nelson biographies and Frederick Marryat's
Mr. Midshipman Easy.
I was hooked as a teenager when my mother lent me
Admiral
Hornblower in the West Indies
in 1957. After that I found and read all of the series by C.S. Forrester.
So when I "discovered" William Golding's sea trilogy
To the Ends of the Earth
a couple of years ago I bought it but somehow I postponed reading it. This thick book includes
Rites of Passage
,
Close Quarters
and
Fire Down Below
. Then I read the preview to last Sunday's British TV production version of
To the Ends of the Earth
on PBS. It features a great cast but Rosemary and I were mesmerized by Jarred Harris's performance as Captain Anderson. Harris is the son of Richard Harris. In last week's first episode remarkable things happen belowships during the hazing of a parson during the crossing of the equator. The production is quite faithful to the book (I am now ready for the second installment tonight) but the crossing of the equator is but a vague diversion in the novel. Seeing the terrible hazing of the parson I remembered that I, too, suffered, but a much reduced version that included Prussian Blue oil paint, adhesive tape on my legs and being sprayed with a sea hose while chained to a boom. It happened on board the Empresa Lineas Maritimas Argentinas (ELMA) Victory ship, Rio Aguapey, on December 11, 1966 off the coast of Brazil. Captain Guillermo Migliorini signed my certificate which made me a full fledged
tiburón
or shark.
Another incident in To the Ends of the Earth is crucial to the story. Our young hero, the upper class gentleman Edmund Talbot steps up to the quarterdeck and Captain Anderson is not able to vent his anger( the young man might have influencial patrons) at this break of naval tradition that only those who are invited can do so. When the hapless parson does so, since he is not a gentleman, Anderson boots him off the deck.
I remember on my second day on the Rio Aguapey (we shoved off from Buenos Aires on our way to the ports of Brazil, Puerto Rico, New Orleans, Houston and Veracruz) that since I was the only passenger on board I thought I would have special privileges. I went up to the bridge uninvited. I quickly found out that while the Argentine Merchant Marine ship, the Aguapey was not a British ship of the line, the same holy traditions prevailed. Captain Migliorini stared at me impassively while the second officer grabbed me and took me down quickly explaining my terrible faux pa.
Budstock, Nancy G, Zippy Pinhead, Art & Bud Luxford
Saturday, October 28, 2006
Sometime soon after August 31st 1982, I went to an "alternative scene" rock band concert at the UBC Sub Ballroom. A couple of guys in front of me where whispering. In spite of the loud band, I was able to hear what they were saying. "These guys look like they all went to the same hair stylist," said one of them. The other guy countered, "They do." He was right. Anybody who was anybody in the alternative scene (those bands that you could not listen to on commercial AM or FM radio except in UBC's CITR Radio) went to Nancy Gillespie (we all called her Nancy G). Why do I know this happened right after August 31st 1982? I remember telling my wife Rosemary, "I am going to get my hair cut by Nancy G. I am getting one of her asymmetrical cuts." I want to do something different to celebrate my birthday. Rosemary cautiously(she made me feel so old!) said, "Be careful, remember you are going to be 40."
On July 30, 1981 I attended Bud Luxford's record release party held at the Commodore Ballroom. It was called Budstock and he advertised it as:
$5 for 10 bands (That's 50c per band not counting calories).
Anybody who was important in the alternative scene played that night in what were called "Fu--Bands". These were bands made up from members of well known bands who switched instruments or in some cases drummers became singers, etc.
I had given myself one mission that night. I was going to take a group shot of all the participants and organizers. Here it is. Smack in the middle you have Bud Luxford. To his left that's Art Bergmann. At the bottom, centre it's Pointed Sticks's lead singer Nick Jones. On the extreme right that's Nancy G. In one of the few other shots I took that night you can see a very drunk Art Bergmann. In the third shot Nancy G is working on Zippy Pinhead, back stage. You can notice in this picture Nancy G's strange but beautiful eyes. We all had the hots for Nancy.
Many women in Vancouver had the hots for Zippy. In a Western Music Awards night I was standing with Zippy. His hands were filthy. A woman came up to him and asked, "Why are your fingernails so dirty?" Zippy explained, "I work in a garage and I put my hands in car grease. What do you expect?" The immaculately dressed woman then said, "What's your phone number?"
Kathleen In Red and Blue
Friday, October 27, 2006
I have never really thrown any of my old pictures away. The ones that do get lost are usually the valuable ones that are valuable, only, in that the subject of the picture is not around or dead. Kathleen is alive and well. The last time I located her she was working as a most efficient accountant for Sam Feldman and Associates on Granville Island. When I photographed her many years ago in my Burnaby basement garage studio I was fascinated by red hair. I am still fascinated by the complexity of rendering a realistic skin colour which eludes most film cameras when faced with redheads.
At the time I thought I could colour print from colour negatives. I wasn't too bad except with red heads. To make it worse I decided I was going to photograph Kathleen with a "blue" rose. I left the white rose soaking in Parker Pen royal blue ink for a day. This is as blue as it ever got. But I am happy with the look of the b+w portait. Kathleen had and has a face that could launch ships.
With A Rose - Reprised
If that previous picture of Kathleen with a rose failed, it failed not because of Kathleen, but because I have since found out that photographs of people, and women in particular, with roses, cherries, strawberries, etc displayed on their faces or in other parts of their anatomy are most often doomed to failure. There have been a few, for me, recent exceptions. This photograph of dancer Sandrine Cassini with
Rosa
'L. D. Braithwaite'is one of my favourite atttempts.
Thursday, October 26, 2006
A nice foil to a good mystery is a book of essays. In recent years, Henry Petroski has expounded on ferris wheels (
Remaking the World - Adventures in Engineering
), Stephen Jay Gould has shown how natural selection has prevented anybody from batting 400 over a season since Ted Williams in 1941 (
Full House
)and I have learned all about the Swiss Army in John McFee's
La Place de la Concorde Suisse.
For essays on food (and chewing gum), nobody tops South African-born Toronto/Barcelona/South of France resident Margaret Visser. In her 1994 book
The Way We Are
, I found out why Pythagoras commanded his vegetarian followers, "Abstain from beans!" And in September of that year I had the good fortune of taking Visser's photograph in her room at the Hotel Vancouver.
We discussed her mention in her book of the first sunbathing scene in French Literature. In 1902, the hero of André Gide's book
L'Immoraliste
took off his clothes and lay down in the sun.
This made me remember the first recorded incident in history of someone taking a sun bath. I had learned of this from my wonderful teacher, Brother Hubert Koeppen at St Edward's High School in Austin, Texas. Brother Hubert had instilled a love of history in me that had all started with such facts.
I asked Visser if she knew of that mention in ancient history involving Alexander the Great and Pindar the Poet in Thebes. Visser answered, "You have it wrong - It was Alexander and Diogenes the Cynic in Corinth." We made a $10 bet.
She wrote her address in my copy of
The Way We Were
and it was an address on Euclid Street in Toronto. I also noticed that the book's dedication was in classic Greek. I knew I was in trouble.
A few weeks later, a neat handwritten letter arrived from Euclid Street. Included was a copy of a page from
Plutarch's Lives
in both English and Greek. It read,
"....a vote was passed to make an expedition against Persia with Alexander, and he was proclaimed their leader. Thereupon many statesmen and philosophers came to him with congratulations, and he expected Diogenes of Sinope also, who was tarrying in Corinth, would do likewise. But since the philosopher took not the slightest notice of Alexander, and continued to enjoy his leisure in the suburb of Craneion, Alexander went to see him; and found him lying in the sun. And when that monarch addressed him with greetings, and asked him if he wanted anything, 'Yes, 'said Diogenes, stand a little out of my sun.'" I sent Visser a cheque for $10.
I am about to re-read one of my favourite books. This is Visser's
The Geometry of Love - Space, Time, Mystery, and Meaning in and Ordinary Church.
This beautiful book about Sant'Agnese fuori le mura in Rome is a biography of a church that is not all that ordinary. One of the floors in the canonry of the 1,350-year-old building collapsed on April 12, 1855 and 105 people, including Pope Pius IV, fell through to the floor below. No one was injured.
For me entering a synagogue, a mosque, a Buddhist temple or my neighbourhood church will never be the same after having read this book. But Visser was up to her old tricks (Brother Hubert would have approved) in gently teaching us Greek and Latin and how they have put an indelible stamp in our language Would you ever guess that it was the virtuous St Peter who was the source of the word scandal?
Simon, son of Jonah, himself nicknamed Peter, "the stone, "was later to comment on the relationship between the crucifixion of Jesus (his "rejection") and his status now as "the corner stone" of the new view of the world. People who do not believe that Jesus is the Christ foretold will not think him a "cornersone" at all, Peter wrote; they will find him a "stumbling-block." The latter expression in Greek is
petra skandalou
, the origin of the English "scandal"; it means a stone that people fall over. Page 83, The Geometry of Love.
Margaret Visser
A Heart of Jade - Corazón de Piedra Verde
Wednesday, October 25, 2006
Salvador de Madariaga's
Corazón
de Piedra Verde
(1942), published in English in the 60s as
The Heart of Jade
was the first novel I remember reading in Spanish. Around 1959 when I read it, it was my first glimpse on how the Spaniards conquered Mexico. Only later did I read Bernal Diaz del Castillo's
Historia verdadera de la conquista de la Nueva España
. While The Heart of Jade was labeled as innacurate by Homero Aridjis ( a Mexican poet who wrote his own and wonderful magic realism version of the conquest of Mexico,
Memorias del Nuevo Mundo
, 1991) I still re-read it, often. I am a sucker for the romance between the dashing Spanish Manrique and the lovely
Mexica
princess Xuchitl. It was in 1966, in Buenos Aires, when I first read Argentine author Julio Cortázar's stories
Ceremonias
which in one volume compiled his
Final del Juego
and
Armas Secretas
. It was here that found my favourite Cortázar short story,
La noche boca arriba
,
The Night Face Up
. A young man riding his motorcycle on a busy street somehow daydreams and almost runs over a woman. In avoiding her he crashes and he finds himself in traction on a hospital bed where he suffers terrible dreams. He is a prisoner of war of the Aztecs and he is being led to his eventual sacrifice (the tearing of his heart with an obsidian knife on the top of a Mexica temple). He manages to wake up in his hospital bed every time things get bad. Until the moment his heart is about to be torn does he realize that the motorcycle and the accident are the dream and that he is about to die.
To the ancient Mexicas, the heart or
yólotl
was the vital organ in the creation of our universe. It generated ideas and feelings. For them the human heart transcended all things material and became the symbol of the intangible and of the powerful. Through human sacrifice the Aztecs gave to their gods their most precious possession in exchange for good fortune or to placate the bad.
Jade has always been part of my life. I remember my mother asking me to help her with her Chinese jade and gold earings and necklace when I was a little boy. When I married Rosemary my mother Filomena gave her the complete set that also included a bracelet and a ring.
My latest connection with jade was in 2003 when I photographed sculptor Lyle Sopel in his North Vancouver studio with a giant jade Buddha he had just finished. All I can remember of the jade octopus is that I photographed it at least 20 years ago in Spanish Banks at about the same time that I photographed the lovely Anette with a jade screen (mined by Mohawk Petroleum) and a jade pendant.
Kathryn Ricketts, Edmond Kilpatrick & Pale Dry Sherry
Monday, October 23, 2006
On Friday I went to La Bodega with my friend Paul Leisz. Hector, our Guatemalan barman, poured me the last glass from a bottle of La Gitana Manzanilla. This is a pale and extremely dry sherry that James Michener described in his book on Spain,
Iberia
as, "...for Manzanilla is one of Spain's noblest wines, a sherry so pale and dry that it seems hardly to be a liquid but rather a delicate spirit." Spanish Sherries use a system called a
solera.
A very old cask of sherry is on the top of a row of casks with younger and younger wines. Small quantities from the old are poured into the newer ones. My Gitana manzanilla had elements from a sherry hundreds of years old; diluted, perhaps, but still there.
It ocurred to me that when I photographed Sandrine Cassini a few years ago, since she had danced at the Paris Opera Ballet that there were elements in her of Marie Van Goethem Degas' little ballerina. And now I find that two of Rebecca's dance teachers at the Arts Umbrella are dancers I have photographed before and who bring with them their own version of the
solera
method. Kathryn Ricketts, who teaches Rebecca Pre-Character dance, I photographed with Grant Strate, the grand old man of dance in Canada who was one of the original dancers and choreographers of the National Ballet of Canada. Ricketts studied modern dance at Simon Fraser University when Strate was director for the Centre for the Arts there. She is now the Artistic Director of Vancouver's Main Dance. Rebecca's other teacher (jazz) is Ballet BC's Edmond Kilpatrick seen here with his ex-wife Victoria.
An Englishman once described the
solera
principle: "Young unblended wines are the letters from which words are formed, while the solera represents a completed word. Sherry, then, is the poem made from these words." I only wonder what Rebecca will become some day with a solera background that is in spades.
Main Dance
Arts Umbrella
Ballet BC
Daryl Duke - The Sun Sets In West Vancouver
Sunday, October 22, 2006
Perched on his diving board at his West Vancouver home in June of 1995 Daryl Duke looked to me like a cross between Joseph in his many-coloured coat and John Cheever stepping into his own story
The Swimmer
. It didn't take long to convince the man (a TV and film legend in Canada) since I had the pursuasive influence of writer John Lekich. We had been assigned by
Equity Magazine
to do a story on him. The experience was specially pleasant as Duke's wife, Anne-Marie was a good host.
Writer John Lekich can make even a stone sound eloquent. In this case Lekich did not have to push hard, since Duke always liked to talk. I read countless essays and letters to the editor in the Vancouver Sun in which Duke lamented CBC's lack of local programming, specially the multi-ethnic kind. My favourite quote in Lekich's Equity article:
I (John Lekich) ask him what he thinks about when he sees the setting sun from his window.
"Travel has really broadened my horizons," he says. "While my parents tended to think of Vancouver as the last stop on the railroad, I've come to realize that a setting sun here is really just the beginning of the day for most of the world's population."
Daryl Duke (77) died this weekend.
Onoclea sensibilis
Matteuccia struthiopteris
or ostrich fern is not the only "weed" fern in my garden.
Onoclea sensibilis
grows in the deep shade bed with some of my largest hostas and it manages to hold its own. This fern is called the sensitive fern because as soon as you get the first frost or sign of cold in the fall this deciduous fern dies off (but it resurrects in the coming year). As it dies it turns into a rich brown. Here you see the pinnae or the primary leaflets of the delightful fronds that seem to stick out randomly between my hostas. If I only look at them, or slightly touch them they break off. Some 12 years ago I bought one. I may have more than 30 that spread. I break off the ones that intrude (very rarely do they do this) on my hostas. As Vancouver is now a pesticide free city I have increasingly found extra charm in those plants that don't get diseases or get eaten by bugs and slugs. My ferns, and
Onoclea sensibilis, in particular
excel with benign neglect.
Gillian, Calvin Klein, Channel No 5 & My Basement Tub
Saturday, October 21, 2006
I had been working on a gallery show featuring women in tubs when my friend Kerry McPhedran told me she had a candidate. I had chosen all my other ones personally so I wondered how I was supposed to "inspect" this one. Kerry told me that Gillian was a swimmer and was perfect as she was very comfortable with her body. The day of the shoot came (sight unseen, I had accepted Kerry's offer) and Gillian appeared at my house. She lay a set of Channel No 5 cosmetics on a little table, took her clothes off in one swoop and neatly placed her Calvin Klein underwear by the cosmetics. She slipped into the tub and I took my photographs.
Jennifer Mascall & The Gracefully Presented Altoids
Friday, October 20, 2006
Wednesday at Brief Encounters at The Anza Club, a woman was sitting to my right. In the dim light, with the help of glasses, she was reading a thick French novel in spite of the jungle driven booming sounds of DJ Jacob Cino. She seemed impervious to it all and in my imagination she could have been British Royalty slumming for the evening. But the woman who opened a little tin and then offered me an Altoid, with the panache that belies the grace of a dancer, was choreographer Jennifer Mascall (left).
There are many fantastic choreographers in town like Cori Caulfield, Susan Elliott, Peter Bingham, Crystal Pite, John Alleyne, Judith Garay, Day Helesic, Emily Molnar and more. But only Mascall (and Crystal Pite) seems to have gone beyond in a wonderful off-the-wall wierdness that manages not only to be in exquisite taste but also happens to entertain while pushing the boundaries of narrative.
It has been a few years since I came to realize that 5 photographs tell a better story than 1. I call them narratives. Mascall has been narrative-driven in her ballets since the first one of hers that I saw, on Emily Carr, called
The Brutal Telling
in 1998. She had crowds of dance enthusiasts (including this one, with wife, eldest daughter Ale, and two granddaughters) going from one West Vancouver garden to another in her 2004
Garden Dances
series. This work even included some swimming and trampoline dance that so appealed to my granddaughters that they tried to emmulate dancer/swimmer Ron Stewart by plunging into the pool in clothes.
But the work that has persisted in my mind as the most challenging work by Mascall was her 2003
Housewerk
performed by her troupe at Hycroft Mansion in Vancouver. In the first section the audience was shepherded to one room. After that we were divided into four groups and we all saw the next segments of the dance in different rooms and in different order. The narrative was a narrative that I would simply define as a dance version of hypertext. My Rebecca, who was almost 6 stayed awake through the whole performance that featured the less booming sounds of Jacob Cino. In the large drawing room, jazz pianist Paul Plimley improvised while the dancers finished our version of our finale. In the photo here, from left to right Katy Harris-McLeod,Sophie Allison, (below) Keely Remillard (with broom), Ziyian Kwan, Dean Makarenko, Jen Murray and Ron Stewart (far right).
Mascall Dance Company
Lauren Elizabeth Stewart - Mezzo-soprano-in-waiting
Thursday, October 19, 2006
When Rebecca Anne was born 9 years ago it didn't take me long to warm up to the little girl she quickly became. I have been smitten since. Hilary became pregnant again four years ago and I (almost) seriously told her that if she had a little boy I would disown her. Luckily things worked out as I planned and Lauren Elizabeth is with us. At the dinner table yesterday Lauren and I played the staring-at-each-other-game to see who would blink first. Hilary had invited us over and Graham Walker, too. Graham and I were going to Brief Encounters 4 at The Anza Club. We wanted to see Susan Elliott. Lauren is particularly fond of Susan Elliott's brand of contact improvisational dance. I have taken her to rehearsals with Rebecca and I long for Lauren to be just a bit older. Then both of them will accompany me to dance performances.
But perhaps dance is not in Lauren's future quite yet. Right now I would say she is a mezzo-soprano-in-waiting. She has a startling low pitched voice.
Nan Fairchild Sherlock & Matteuccia struthiopteris
Wednesday, October 18, 2006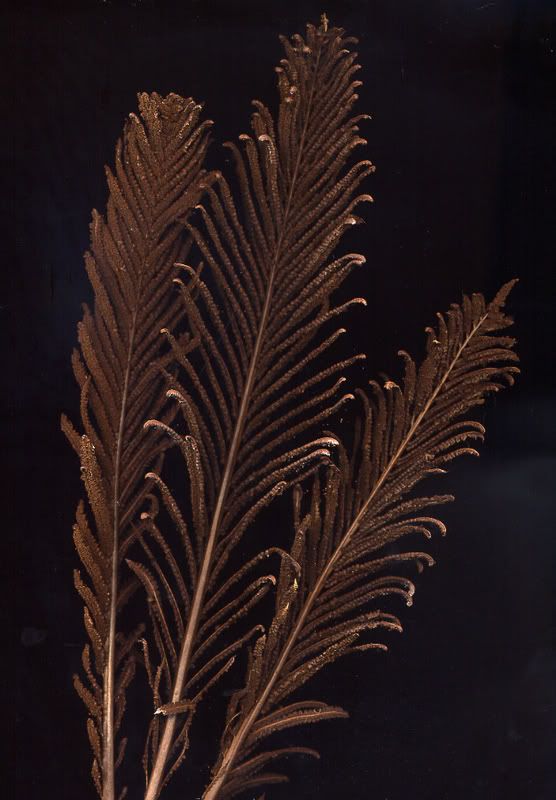 I knew Nan Sherlock, Vancouver's "Fern Lady" for 16 years and when she died in July 2004 I went out to my back garden and feasted my eyes on the many (as in many)
Matteuccia struthiopteris
or ostrich ferns that compete for light and space with my hostas. Through the years I had purchased one or two of these from Nan at the yearly VanDusen plant sale. With a smile on her face she would place them in my hands and tell me of all their wonderful qualities. Not once did she mention that the ostrich fern is the honorary rabbit of the plant kingdom. I may now have 40 of them as they spread with their underground rhizomes. They are more agressive than some of my very large hostas. At one time I had ostrich ferns as hosta companions. The hostas are now second fiddles. When the fiddleheads emerge in by the end of April I know its time to go to the VanDusen Plant Sale. From experience I have learned that after that first week of May if I move any of them they will die back, but they will come back the next year after a good year's rest. When the beautiful outer fronds begin to die back in the late summer, the inner, erect, spike-like, dark brown fertile fronds remain. They go a very dark chocolate brown and remain year-round. I cut them and bring them inside where they look beautiful in vases. I may have at least 35 varieties of ferns. Many came via Nan Sherlock. I miss her a lot but when I look at any of my beloved ostrich ferns I remember her and smile.
The School For Scandal - Lauren, Christopher, & Dean Paul
Tuesday, October 17, 2006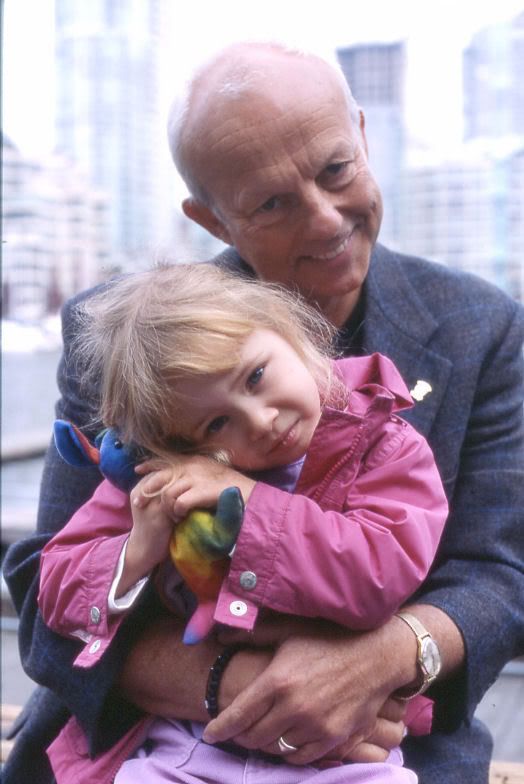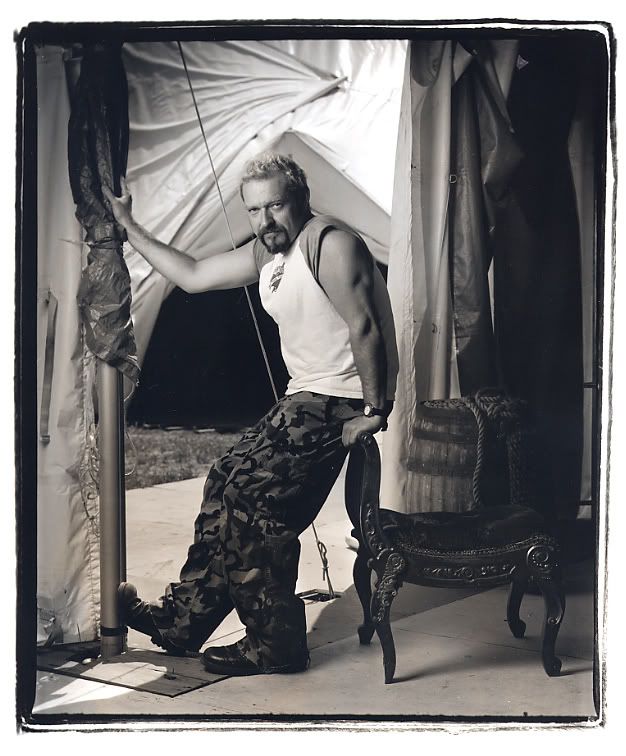 Last Saturday Lauren (Joey, her pet kangaroo) and I ran into Christopher Gaze coming out of the Arts Club Theatre. Gaze was there rehearsing his role in the Richard Brinsley Sheridan play
The School For Scandal
which is directed by Dean Paul Gibson. While neither Christopher Gaze or Dean Paul Gibson are as sexy as Jane Russell in
The Outlaw
they still are two good reasons to go and see this play. And see this play I will.
I have had the pleasure of knowing both Christopher Gaze (almost 27 years) and Dean Paul Gibson (only 4 years). I have photographed them more than once. Since I first saw Gaze as Richard III 25 or more years ago, I have been enriched by his easing of Shakespeare into my life. In the last few years he has had the expert help of Dean Paul Gibson as a both a director and an actor in his
Bard On The Beach
. Anybody who has not ever seen Gibson do one of his Jack Nicholson imitations is very unlucky indeed! I think that Dean Paul Gibson may be one of the funniest men in Vancouver. And in this picture he almost gives Jane Russell a run for her money.
The School for Scandal opens at the Stanley on October 26.
The School For Scandal
Dean Paul Gibson - One More Time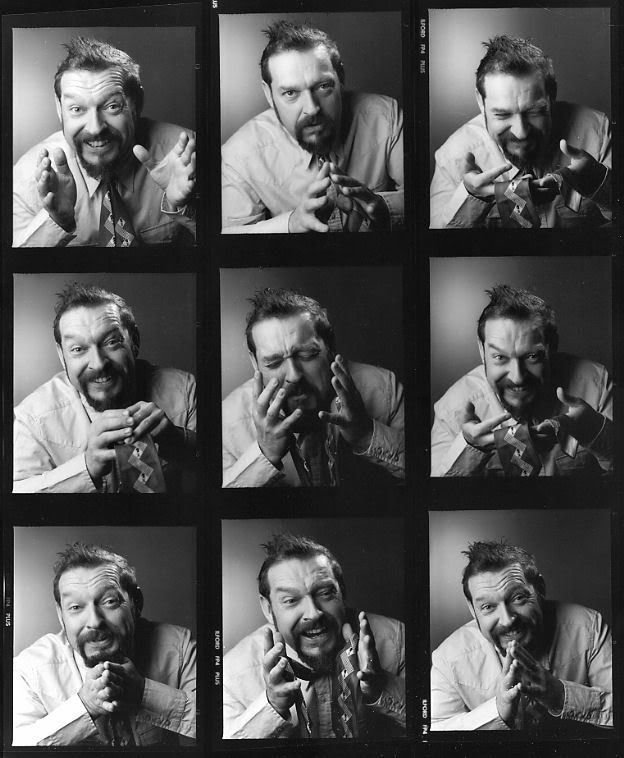 Looking at that contact sheet of 9 photographs of Dean Paul Gibson I have a terrible time trying to decide on one of them. When Gibson did this just for me in my studio I was in tears.
Woman In Red
Monday, October 16, 2006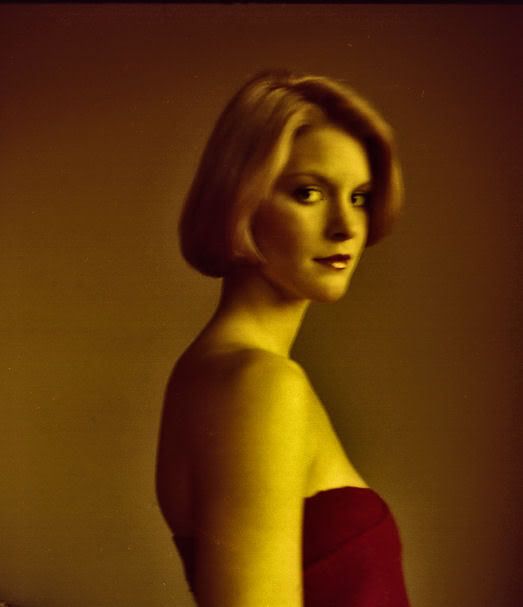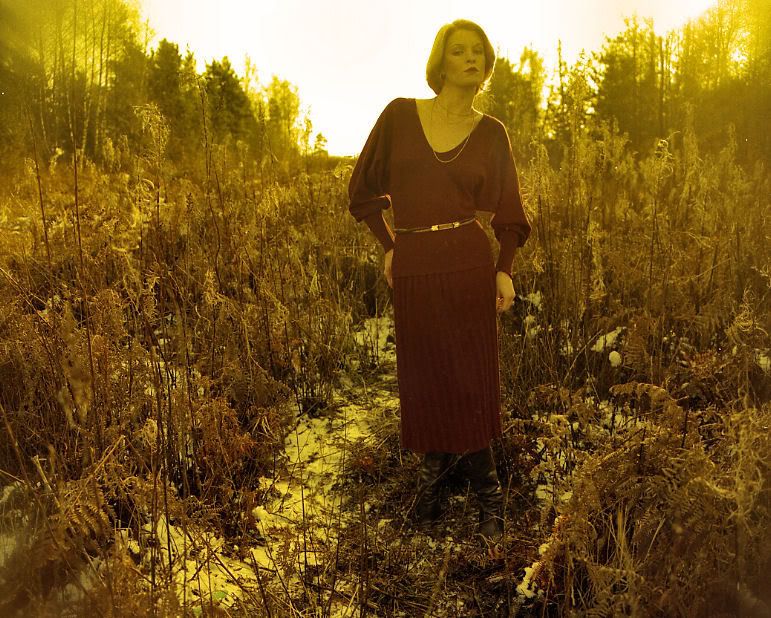 My eldest daughter Ale took it upon herself to begin filing all my photographs some 12 years ago and did such a great job that I can find anything in my files if I remember my subjects' names. Sometimes her filing system is quirky. My self-portraits are filed as self-portraits. It took me a while to figure that one out. Recently I discovered the Woman in Red. I photographed her about 29 years ago and all I remember is that she lived in upper East Hastings in Burnaby and that even in red she was awfully cool. 29 years ago I thought I was going to shoot fashion and models. I worked for a while for the (Marie) Morton Talent Agency. I remember Marie telling me once, "When I send you young men to photograph make sure none of them are wearing puka shell necklaces." Marie must have sent the Woman in Red my way. I think that I also photographed her somewhere in a Richmond wild park where it had recently snowed. The out of focus (in reality the blur is caused by camera shake) marks the first use of my mother's beautiful Mexican red rebozo. It was given to her in 1950 and it is made of an extremely rough fibre and its intense redness marks it as some sort of vegetable dye that is no longer used. Many of my models (mostly the undraped ones) have worn this rebozo which has the sweet smell of
olinalá
wood. I store it in a Mexican lacquered chest that came from Olinalá in the state of Guerrero where the trees used to make the lacquered chest once grew. Most are gone because of over-logging.
Île de Bourbon & Louise Odier
Sunday, October 15, 2006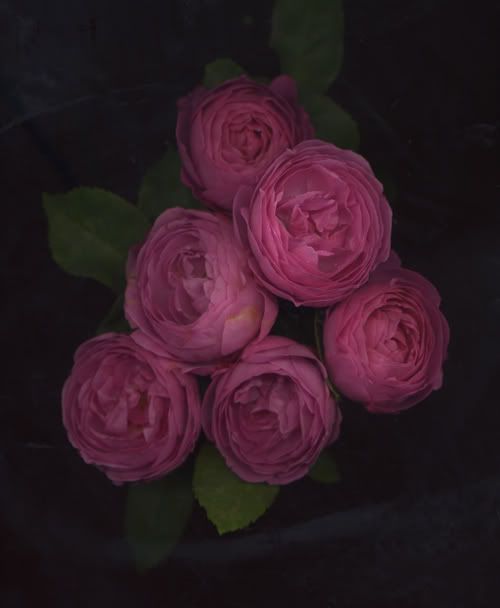 Reunion, a French island in the Southern Indian Ocean has had several names during the years. Arab sailors called it
Dina Morgavin
(Western Island) until 1513 when the Portuguese named it
Santa Apollonia
. In 1638 the French occupied it and Louis XIII named it
Île de Bourbon
in 1643. When Louis XIII lost his head the name of the island was changed to
Reunion.
In 1801 it changed again to
Île Bonaparte
. In 1810 Commodore Josias Rowley took posession of the island for England and reverted the name back to
Île de Bourbon
. It kept that name until 1848 when the island was restored back to France as
Reunion.
It was during the "English" period that rose history was made. A China rose with the peculiar ability to be remontant (it bloomed more than once as many other China roses) crossed paths with an ancient Damask rose called 'Quatre Saisons'. 'Quatre Saisons' blooms, at best twice, in June and then a couple of months later. This is an example of early false advertising. The China rose has had different names in its past. It has been called 'Parson's Pink', 'Old Blush'and by the inhabitants of Reunion as
Rosa
'Édouard'. 'Old Blush',as she is known today and 'Quatre Seasons' produced roses that sometimes had the open-faced look of the latter and at others a tight multi petalled ball that resembled the former. M Bréon, director of the island's botanic garden sent seeds to M Jacques who was the head gardener of the Duc d'Orleans. Bréon recognized, with excitement, that these new roses were indeed new. These remontant roses with many colours (except yellow) dominated rose production well into the 19th century. One of the salient characteristics of Bourbon Roses is its intense perfume.
I have been buying Bourbon roses carefully as the ones that have tight incurved flowers tend to ball up in Vancouver rain. In spite of it, my Rosa 'Reine Victoria'(before they open the flowers look like deep pink ping pong balls) does well. Some years ago I was told that the Bourbon rose to have was Louíse Odier' so I bought her from the Langley Dutch sheep farmer and rose breeder Jean Tuytel. But it wasn't 'Louise Odier'. The rose that first flowered in my garden was a much rarer sport of 'Reine Victoria' which instead of being deep pink was white with a very light pink colouring in some petals. She was delicate and hard to grow but grow she has, if not well. I finally got to 'Louise Odier'. She is in a pot on my back garden path waiting for late fall when I will put her into the ground. Meanwhile she has been showing off and here you see 6 blooms I cut last night (there was another but the petals fell). I wasn't too sad to cut them all as I knew that today's rains would probably put an end to them.
Not much is known about where she came from except that M. Margottin introduced her in 1851. Who was Louise Odier? I have not been able to find out. But consider that one of the most beautiful of the more modern English Roses is Rosa 'L.D. Braithwaite'. Hybridizer David Austin has named this superb deep red rose after his fahter-in-law. Another salient characteristic of Louise is that she is a tetraploid. It seems that she can grow well in Southern Sweden. But that's another story for another day.
A Dog & Peter Bentley
Saturday, October 14, 2006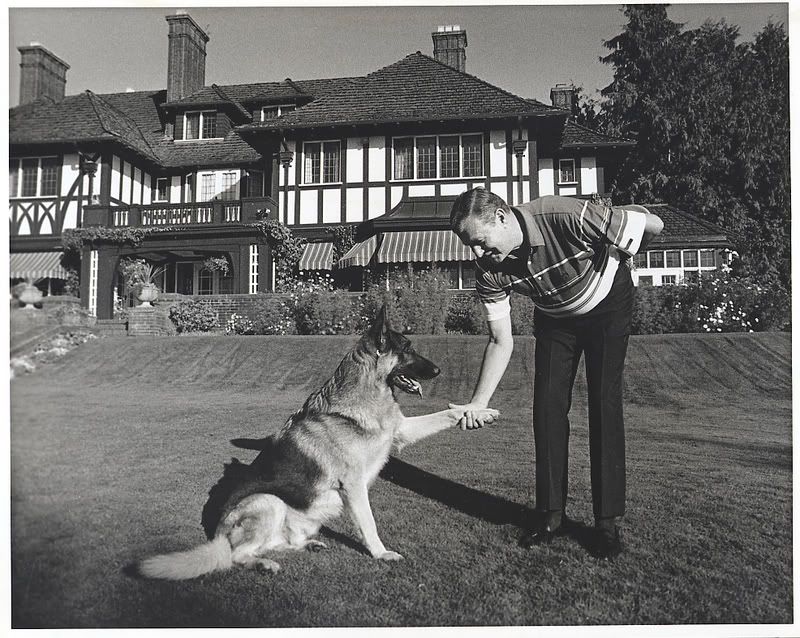 In the 80s and early 90s being in business was a respected profession. Business magazines proliferated and profited from an interest in all things executive. In those 80s I made enough money to buy a house that I certainly could not buy now. In those early 80s I photographed tons of executives with my camera low to make them look even more powerful. In the early 90s things began to change and one of the first persons to notice that change was Equity Magazine (a Vancouver magazine founded and edited by Harvey Southam) art director Chris Dahl. Every year I was assigned to photograph what Equity called the Power Elite. I would have to photograph the most important businessmen (including the then token woman called the "Ball Bearing Queen") with photo set ups that would make them look powerful and almost intimidating.
"This year," Chris Dahl told me, "I want you to use no lights, use a small camera and photograph these guys playing."
Here is one example of CANFOR CEO Peter Bentley playing Frisbee with his dog in the backyard of his Southwest Marine Drive home. I cannot help but think that Chris Dahl had a special talent to see what was coming before anybody else.
April In October At The Safeway Milk Counter
Friday, October 13, 2006
I spotted the woman, a week ago, at the milk and egg counter at Safeway. I said to my wife, "April is the important month in our garden." The woman stopped momentarily and moved on. I repeated, "April is a very important month." The woman turned back and said, "My name is April." I countered, "I know but I wasn't completely sure."
The last time I saw April was on Wreck Beach 30 years ago when I photographed her with a Pentax Spotmatic-F and a 120mm lens. I had Kodak b+w Infrared film in the camera. A few weeks later we found out that April had been involved in a terrible head-on collision on her way to Whistler. I have always remembered April because she was my first nude model.
But reflecting on it I must say that April wasn't first. I photographed my wife Rosemary and daughter Alexandra in our apartment on Herodoto Street in Mexico City 38 years ago. The reason Ale is smiling here is that she had just relieved herself on her mother.
Robert Bringhurst On A Tree
Thursday, October 12, 2006
I first met poet and typographer Robert Bringhurst in 1995. My wife and I had been invited to Eve Johnson and her husband's (architect Alan James) house for dinner. At the time Eve Johnson was a food writer for the Vancouver Sun. She liked to test her new recipes. These recipes were invariably very interesting as Eve Johnson is a vegetarian. In a dark corner of the kitchen table, where we sat for dinner, I spotted a quiet man wearing glasses. He was introduced to us as Robert Bringhurst who has an interest in native issues and has written beautifully about native Canadian culture. For many of my designer friends Bringhurst's
The Elements of Typographical
Style is a bible. During the meal Bringhurst talked little except to tell us that he was moving out of a house on a nearby island and that he had purchased an artist's loft near the Grunt Gallery in Vancouver. Bringhurst became very vocal only after I stated my concern that if at some point in Canada's future Quebec should declare its independence from Canada would the native people of Northern Quebec seek the protection of the federal government? How would the French Canadian generals of our armed forces react?
A few months later I was assigned by the Globe & Mail to photograph Bringhurst in his new loft. Bringhurst was not all that more talkative but he did acknowledge feeling a bit alienated in his new digs. I decided to "take" him to the forest which was and is the inspiration for much of his poetry (
The Calling: Selected Poems 1970–1995
. I snapped a few shots and a few days later I went to Lighthouse Park in West Vancouver and "push pinned" his portrait to a tree. This photograph marked the beginning of a new phase in my photography that I have called conceptual portraiture. I was late at coming to this term as fellow American (Bringhurst is an American) photographer James La Bounty (who lives on Saltspring Island) was shooting this kind of stuff long before I started.
Bruce & Stan Scream - Sam Doesn't
Wednesday, October 11, 2006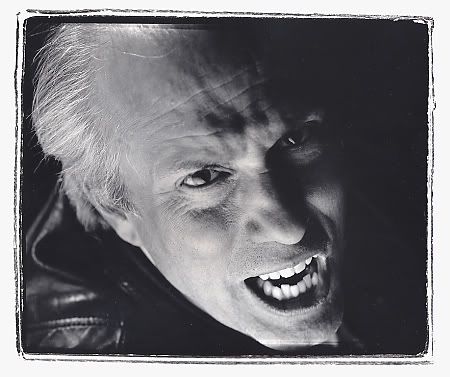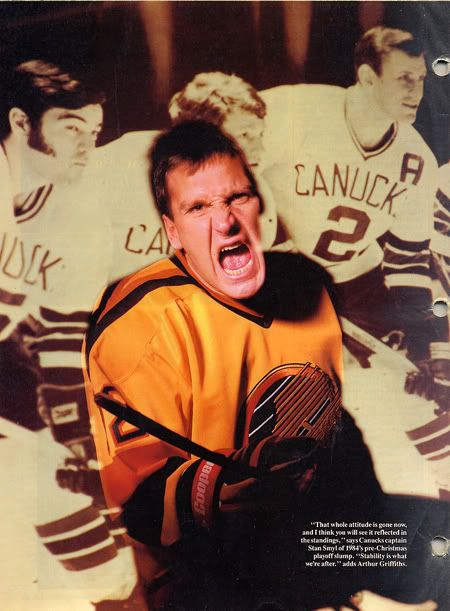 At Vancouver Magazine, Chris Dahl pushed me to innovate even though I resisted. He insisted I had to do some back projection photographs. I explained that the technique was possible in Toronto where they had the equipment but in Vancouver he could forget it. Finally just not to hear him I did a series of portraits of people in the local music industry (here you see Sam Feldman) projecting slides behind them and then taking one photograph that would include the projection and my subject. It was not easy but it calmed Dahl for a while. Then Dahl said he wanted the same thing but in colour and he nagged. We chose the Canucks as our subjects. The problem is that I had to take the projection equipment to the Coliseum as the Canucks would not come to the studio. I remember having to rent a huge white canvas to use as a projection screen. In this shot of Stan Smyl (December 1985), I discovered that to get real energy I had to ask him to scream at me. This technique worked even better years later with Bruce Allen. He shouted as many obscenities as he could (he has the reputation of being an expert at this) in my direction. Since I was no more than three feet away I can attest that this was a loud experience I will never forget. Rodney Graham and Neil Wedman (both artists at the time had studios on my floor) came to see if I was okay.
Jim Taylor & Two Ice Cream Sodas
Tuesday, October 10, 2006
In August, 1984 I was dispatched for the second time, to photograph
Province
sports columnist Jim Taylor. Vancouver Magazine art director Chris Dahl had not liked any of my first batch of photos because Taylor was not wearing his glasses. "Nobody is going to recognize him without them. I don't care how thick those glasses are, Alex, go back and shoot him with them on." So I reluctantly returned with my eldest daughter Ale in tow to soften the embarrassment of the "re-shoot". Somehow I was able to position my Norman 200b light in a way that it did not reflect in Taylor's eyes. The early laptop he is using was one of the Tandy/Radio Shack models. It was cutting edge. As serious as he look here he was very warm and gracious at having to pose for me a second time.
It was a relief to leave Taylor's house and I told my daughter, "I feel like having a strawberry ice cream soda. It was a hot Saturday afternoon, in the waning days of a late August summer. We went to Bar Centrale on Commercial Drive. It is now long gone but then they served the best coffee and the best strawberry ice cream. I asked for a couple of ice cream sodas. The young Italian attendant told me, "We don't have them here." So I asked him for:
1. Two tall glasses and two long spoons.
2. A couple of scoops of strawberry ice cream in each glass.
3. Two bottles of San Pellegrino.
Ale and I had the best strawberry ice cream sodas of our life.
Bill Vander Zalm - Winner & Loser
Monday, October 09, 2006
Bill Vander Zalm faced my camera many times during his ascent to power in the NPA, during his time as British Columbia Premier and after as a retired politician making good with plants. He always treated me fairly. It was difficult not to like a man who had once given me advice on how to keep a Boston fern alive. It was in Gardenworks in Burnaby and Vander Zalm was wearing Dutch wooden shoes and an elaborate headdress and costume.
But it is our date in August 1993 that I remember the best. He had resigned in 1991 and had almost disappeared from sight. Mike Campbell, de facto editor of Equity Magazine had secured an interview with him (at the Wedgewood Hotel) on the condition that the interview be not too intrusive and the photograph a pleasant one. Mr. Campbell stressed this latter point with me. The fire was crackling in the interview room and Vander Zalm, as always, was beautifully dressed. I chatted with him about our mutual interest in plants. At the time his favourite plant was
Ilex crenata
, a form of Japanese Holly that resembles a box hedge. I used all the rules of photography that I knew to make the man look attractive, honest, rested and comfortable. This is the picture that ran. But just to prove how photography can lie I took another in b+w. Now when I look at both photographs I wonder which is the honest one?
Rick Staehling - Art Director
Sunday, October 08, 2006
I first met Rick Staehling about 27 years ago at Vancouver Magazine. From him I learned the ropes of shooting for magazines and a few things more. In many ways an editorial photographer (one who takes photographs to illustrate articles and essays in magazines) has to be subsirvient to the needs of the art director. A good art director will make the photographer aware of this in a most gentle manner. And Staehling was gentle, except once (even though he tried his best). He called me up one day and told me that he wanted me to photograph some sewing machines. He mentioned that since money was involved I would perhaps rise to the situation and accept the assignment. I hated the job. To make it all worse Staehling used a printing technique (mezzotint) to make my fine grain photographs look like coarse Grey Poupon Mustard. Quite a few years later, at the opening of a group photographic exhibition at a local gallery, one of my co-exhibitors (a woman) told me, "Alex I really admire you, I could never photograph sewing machines." I almost punched her in the nose! It was that evening that it finally dawned on me that Staehling, in gently assigning me to photograph just about everything that could be photographed, trained me to understand that commercial photography and art photography could go hand in hand without any conflict as long as I kept my pride in check.
Mars Rover - Getty Images
Saturday, October 07, 2006
This photograph that the Mars Exploration Rover took of Cape Verde in Victoria on Mars was credited to NASA in today's New York Times. It is a beautiful photograph. But it does not have the emotional impact of that first photograph taken by the American astronauts of our Earth from the moon. When I look at that photograph I can think, "We, are from there."
Another emotional impact, rage, hit me when I saw this same Mars Rover image in the on line version of the New York Times. For unknown reasons the NASA credit is modified. At the present rate of the Getty Image acquisition of all of our memorable images, we will soon have to pay to be able to see any of them. Would it even be possible that even the mere thought of them might someday infringe on copyright?
This "state of the art" blog has an image width limitation of 5 inches so that I am unable to size this very wide picture and still make the credit visible. Here it is:
NASA via Agence France-Presse - Getty Images
Two Men With A Shoe & One With A Sword
Friday, October 06, 2006
I have only photographed two men with a shoe near their face in my life. One was the virtuoso Argentine tango dancer Carlos Gavito. I did not know how to get his patent leather shoe near his face without offending him. So I said, "It is such a pity that a shoe is so far from the face." Gavito looked at me, took his shoe off and posed." The other virtuoso, Lui Passaglia was another type of dancer but a virtuoso, nonetheless. Passaglia is receiving an honorary Doctor of Laws degree (honoris causa) today at Simon Fraser University. This event gives me the excuse to not only post the two men with the shoe but a man with a sword. Christopher Gaze is also getting his degree today.
Dr. Simon Warner, Graham Walker & Lauren's Winking Eyes
Thursday, October 05, 2006
Dr. David Warner was our family ophthalmologist for 15 years. When he retired in 1994 his son Simon took up his father's practice. We have been getting our eyes checked by Dr. Simon (as we call him) since. I first met Dr. Simon Warner in 1993 at the VGH Eye Centre when I was taking pictures for a CNIB (Canadian National Institute of the Blind) fund raising brochure that was designed by my soon-to-be-friend Graham Walker (far right) at KARO Design. In the course of the shooting I met Dr. Simon and that's when I found out that his father was our doctor.
The brochure that Graham Walker designed was beautiful and the best part of it was that he asked me, "What do you think would make a good cover image?" I answered that since most people identified older people with being blind, it would be interesting to feature a young girl or boy. "And," I added, "the little girl or boy should be playing with old-fashioned wooden blocks." I was thrilled to see my idea as reality, a couple of weeks later.
As a photographer I consider my eyes to be extremely valuable. I would never think of seeing anybody but a doctor to check them out and prescribe glasses. While many Canadians do not know the difference between an ophthalmologist and an optometrist I certainly do. The former is a medical doctor. Ophthalmologists are also surgeons. If someone is going to put something into my eyes (be it sharp or blunt) I want to make sure they know what they are doing.
It was thrilling (we photographers are thrilled easily!) to take Lauren Elizabeth Stewart (my 4-year-old granddaughter) for her first eye checkup. She had been blinking her eyes for a while and we were worried about her. By the time Dr. Simon checked her out the blinking had mysteriously gone and Dr. Simon told me that Lauren's were perfectly normal. Maybe not.
Sonnet 43
When most I wink, then do mine eyes best see,
For all the day they view things unrespected;
But when I sleep, in dreams they look on thee,
And darkly bright are bright in dark directed.
Then thou, whose shadow shadows doth make bright,
How would thy shadow's form form happy show
To the clear day with thy much clearer light,
When to unseeing eyes thy shade shines so!
How would, I say, mine eyes be blessed made
By looking on thee in the living day,
When in dead night thy fair imperfect shade
Through heavy sleep on sightless eyes doth stay!
All days are nights to see till I see thee,
And nights bright days when dreams do show thee me.
William Shakespeare
Two Arthurs, Two Strings & Two Guitar Players
Wednesday, October 04, 2006
On August 11, 1984 Art Bergmann and his band Poisoned were the warm-up act for the Psychedelic Furs at the Orpheum. No band from Vancouver's alternative rock scene had ever before been invited to perform at the Orpheum.
In 1952, as a boy, at Buenos Aires' grand opera house, the Teatro Colón, I saw another Art play, amidst a chorus of winter coughs and sneezes. Pianist Artur Rubenstein got up, turned to the crowd, pen in hand like a baton, and shouted, "All together, one, two, three cough, cough." He sat down and began to play. He played terribly. It dawned on all that Rubinstein was drunk. He was instantly showered with coins, the
Porteño
sign of disapproval. He left, and we waited patiently for an hour, when he returned to play Beethoven with consumate virtuosity and passion. Even I knew the night was special.
Art once sat down at my Chickering baby grand and played some amazing Bach. While the Orpheum is not the Colón and Bergmann is no pianist ( he is a virtuoso of the electric guitar), any performance of Bergmann I ever attended always held the promise for the kind of passion (and the kind of risk) I experienced back at the Colón in 1952.
At the Orpheum show (left), I was not disappointed. On a good night (by my measure), Art breaks a guitar string. On this one he broke two. And there was that additional guitarist. He was six feet tall; wore a Mohawk and knee-high lace-ups. His image of an undead was at odds with the map of Italy painted on the face of his guitar. None of us knew then that Ted Rich was Eric Clapton's half brother.
Todd, Lauren, Whale Tails & A Snub-Nosed 38
Tuesday, October 03, 2006
Some of you by now, must know that I am crazy about women and specially my granddaughter Rebecca (9). But I must admit that Rebecca's sister Lauren (4)is doing a good job of confusing me. She is a delight. She is my companion on Saturdays when we drop off Rebecca at her Arts Umbrella ballet and dance classes on Granville Island. Lauren and I buy a plain croissant at he bakery that is across the butcher shop that features "dino bones" (I am afraid to ask). We then sit down at the Granville Island Tea Company for an hour. Lauren munches on her croissant while I drink a Rwanda Rukeri. Lauren behaves all the time like a little adult and she sometimes plays , "I spy with my little eye....."with the cute and friendly attendants at the tea counter. We know all the regulars who come for their tea. One of them is Todd Woffinden, dancer, actor, carver and sometimes singer.
I have to admit that while I really like women I have been afraid of male dancers particularly those that dance at Ballet BC. Some were intimidating (when I first started taking their pictures in 1992) others remote. But it was around 1994 that the Globe dispatched me to photograph Ballet BC's John Alleyne. I decided on a dancer couple for background. That's when I first met the easy going Todd and Crystal Pite. Todd in his quiet and most American drawl told me it was going to be easy. It was and the photo was very well received.
I had the opportunity to shoot with him again in November 1997 when I did a fashion spread for the Georgia Straight that featured a narrative involving three women (female Ballet BC dancers) being holed up in a cheap hotel (Room 615 of the Marble Arch, then owned by my pal Tony Ricci) who lure two men (Todd and another Ballet BC male dancer) and then dispose of them with a snub-nosed 38. In the photo from left to right, Andrea Hodge, Gail Skrela, Todd Woffinden and Lauri Stallings. During rest periods I was "shocked" (out of ballet character?) that Todd was watching American football in another room. It was then that I noticed that he resembled that other good old American and favourite actor of mine, Sam Shepard.
A few years later I was asked to photograph a dancer and a musician for a joint charity program involving Ballet BC and the Vancouver Symphony Orchestra. Here's Todd with VSO violinist Karen Gerbrecht.
Two weeks ago Lauren and I ran into Todd on Granville Island. He was at his stall (not far from the Tea Company). Todd has stopped dancing for Ballet BC and has now gone independent in many directions. In 2004 I saw him in the Vancouver Opera production of Kurt Weill's Threepenny Opera. If any Vancouver Opera production features ballet, Todd will be on stage as he was for Aida. But the most striking talent Todd has are his carvins specillay his trademark whale pendants that he carves from 10,000 to 40,000 year-old Yukon mammoth tusks. Here you see Lauren holding on to Todd for dear life (and not knowing that one of Todd's specialties was to hold up women of any size back in his dancing days). His whale tail pendant and hand woven cord is hanging around his neck. Both Rebecca and Lauren appreciate Todd's quiet way of talking to them as little adults. I appreciate it and him, too.
The Modernettes, Three Canaries & Other Sweet Stuff
Monday, October 02, 2006
On Saturday I furthered Rebecca's musical education. In the car, when I was taking her home with her sister Lauren and mother Hilary, she said, on hearing what was playing on the car's CD player( Lonesome Road from
Gone With The Wind
), " That's Dave Brubeck Papi, do you have any Gerry Mulligan?" It made me happy as she is now able to discern not only between instruments (be it baroque, classical or jazz) but also within the genres. Earlier in the afteroon we had been listening to 40s "canaries", Doris Day, Peggy La Centra and Helen Forrest. After all that sweet stuff we listened to the Modernettes's signature tunes,
Barbara
and
Rebel
Kind
. When Randy Carpenter sang the ever so sweet
Tears Will Fall
Rebecca commented, "That cannot be punk or is it?" I showed Rebecca the old Polaroid I took of Buck Cherry (aka John Armstrong), Mary-Jo Kopechne (aka Mary) with our daughters Ale (top left) and Hilary, top right) sometime in 1986 when they came home for dinner. While listening to more Modernettes, Rebecca sketched. From the Modernettes we went to
The Subhumans - Incorrect Thoughts
. Lauren was happily dancing around to
dead at birth
while Rebecca was listening, with care. "How come I haven't heard that four letter word?" she asked? "Because you haven't been listening as carefully as you think," I countered while making note not to play the other side's
slave to my dick
.
Barry Lopez & Krauts in a Beer Hall
Sunday, October 01, 2006
When Barry Lopez's
Arctic Dreams - Imagination and Desire in a Northern Landscape
appeared in 1986 I remember Malcolm Parry telling me it was one of the best books he had ever read. Since I also read fiction (Mac doesn't) I was skeptical but upon reading Arctic Dreams I agreed with Mac. If I flew more often I would probably read more non-fiction. It was on board some airplane that I "discovered" an installment in the
New Yorker
of John McPhee's wonderful
La Place de la Concorde Suisse
. I had to read the conclusion of McPhee's account in which he watched and documented (in the admirable McFee way) Swiss Army "refresher" courses with soldier companion Luc Massy. I bought the book. It was around 1995 that I read a Barry Lopez essay in
Harper's
(again some airplane) on being aboard a cargo Boeing 747 in a world-wide trip and where he wrote:
"In this world, `perishable' refers to more than flowers, food, and newspapers; it includes everything in tenuous fashion: watches, video games, shades of lipstick, a cut of trouser--objects for which a few days' head start on store shelves is crucial."
I was hooked to reading the occasional non-fiction book. With Mac I share a fondness for Henry Petroski's engineering books which include not only
To Engineer Is Human
but his excellent autobiography
Paperboy - Confessions of a Future Engineer
. My interest in "engineering" books began when Erich von Däniken published his questionable "non fiction"
Chariots of the Gods
in 1968. He was hailed as the "father of the ancient astronaut theory". I preferred L. Sprague de Camp's
The Ancient Engineers
where the credit for the building of all the ancient wonders was convincingly placed on the shoulders of von Däniken's inferior humans. The just released (and on my bed table right now)
Mountains of the Pharaohs - The Untold Story of the Pyramid Builders
by Zahi Hawass (secretary general of Egypt's Supreme Council of Antiquities) is no McPhee or Lopez but fascinating, nonetheless.
My friend John Lekich talked, for years, about his favourite non fiction writer A.J. Liebling, to no avail. It was in a copy of Liebling's
Between Meals
which was on Vancouver Magazine restaurant critic Jamie Maw's living room coffee table when I became a Liebling fan. I read:
Mens san in corpore sano is a contradiction in terms, the fantasy of a Mr. Have-your-cake-and-eat-it. No sane man can afford to dispense with debilitating pleasures; no ascetic can be considered reliably sane. Hitler was the archetype of the abstemious man. When the other krauts saw him drink water in the Beer Hall they should have known he was not to be trusted
.
In 1990 when I photographed author Barry Lopez we found we had one thing in common. While I had been educated by Brothers of the Holy Cross and he by Jesuits we both agreed that our Catholic education had given us a more liberal understanding of the world which somehow gave us a competitive edge in some of our pursuits.
Liberal Catholic Education