Dances for a Small Stage
Tuesday, January 31, 2006
Today I attended the 12th installment of Dances for the Small Stage at the Crush Champagne Lounge. Even though I was one hour early the queue was so long I almost did not get in. It may be no coincidence that my three favourite acts were performed by three of the dancers seen here. On the top right, Susan Elliott made it more difficult for herself by dancing on an even smaller stage that was no wider than she is long. Margie Gillis, on the bottom right, not only choreographs for her body but for also for her long red hair. Dana Gingras, on the bottom left, danced without her Holy Body Tatoo partner Noam Gagnon. Dancing in her black teddy, Gingras would have made Rita Cansino jealous. But missing this evening and in other Dances for the Small Stage was the presence of a good dancing man. My favourite ever was Ballet BC's Miroslav Zydowicz seen here stroking artist Tiko Kerr.
Dances for a Small Stage
Abraham Jedidiah Rogatnick
Abraham, 84 years old, is my friend. He is a retired architect (Harvard) and an active actor and set designer. In the US Army he fought in the Battle of the Bulge. Abraham and I go to many concerts of baroque music or of his favourite composer, Mozart. He is a philanthropist and art lover and just about anybody who studied architecture at UBC (including former BC Premier Glen Clark) had him as a professor. Abe is a man of impulse. I can call him up an tell him I am going to a concert in 30 minutes. More often than not he will say, " Sure, I'll go, I'll be outside on the street waiting for you." He is one of the few who can call Arthur, Arthur. He once said on the subject of Arthur, "After all I am a year older than he
is."
More on
Mozart
A photographic misconception - twice
Monday, January 30, 2006
There are some that think that with the digital revolution in photography it is very difficult to believe what we see. Photography has lied since its inception when Daguerre paid a man in 1839 to lie still for close to 30 minutes (we were led to believe this was a candid "grab" shot) while he had his boots polished on a Paris street. German photographer August Sander photographed the young German soldier on the left. In my mind I have always seen this photograph in colour. I know he has bleached blond hair and very blue eyes. He is a perfect example of Hitler's master race. He seems to have equanimity in spades and fears no one. Yet if one is to believe the date underneath, 1945, one would guess that the Russians may have been a few miles away if not a few blocks away. Does this photograph lie?
Several photographers have died at their prime and their prime has been at an age when in most other professions one would be checking one's gold watch to see when to take the prescribed pills. George Hurrell died in his 80s as did Richard Avedon. One of my favourites was Mexican Manuel Alvarez Bravo who died in 2002 at age 100. At 84 he took the picture on the right, El Trapo Negro, or the Black Cloth. It is one of the most erotic photographs I have ever seen.
Sunday, January 29, 2006
Around 1957 I was walking from the cafeteria to my room. I was a boarder at St Edward's High School in Austin Texas. On the way I was stopped by the short and compact but very strong Brother Edwin Reggio CSC. The brothers, priests and nuns, of the Congregation of the Holy Cross are the ones that run Notre Dame University in Indiana. Brother Edwin indicated to me that he needed an alto saxophone player for the school band and that I was going to be the one. I was never a very good one but somehow not only did I play for the school band but for the more sophisticated little swing band. I was also in charge of keeping the band room clean and solving the mice problem. I bought a circular mouse trap, built much like a train roundhouse. The trap had 6 openings, with room for cheese in the middle. Each opening ended in a decapitating trap. Brother Edwin taught me about Artistotle, St Agustine and St Thomas Aquinas and that cornets blend better than trumpets with B-flat clarinets. Here you can see him as he was in my 1960 yearbook and as he is today.
St Ed's High School
St Ed's
CBC Vancouver, Studio 1, Vancouver Jan 27 2006
Saturday, January 28, 2006
CBC Studio One in Vancouver holds many ghosts for me. I have taken photographs of musicians there.The CBC Vancouver Radio Orchestra used to record in Studio One and is now home of its re-incarnation, the CBC Radio Orchestra. If it weren't for this orchestra many contemporary Canadian composers would never see their music recorded or played on the radio. One ghost that haunted the studio yesterday during the Mozart Noon & Night Program (conmemorating Mozart's 250th anniversary of Mozart's birth with 12 hours of live music) was conductor Sir John Eliot Gardiner who directed the orchestra back in 1981. I feel lucky since I have photographed all three of the directors of the orchestra from its beginning, Avison, Gardiner and the present Mario Bernardi. The sound of the studio yesterday was particularly precise for the Borealis Quartet, my favourite Canadian quartet. There were moments when I thought each instrument was wired separately to my ears. Canadian composer/director Rodney Sharman (top right)made me laugh with his explantions of the problems Mozart had as a young boy with his overbearing father Leopold. The evening, which ended with two gigantic birthday cakes, was best for me when young baritone Tyler Duncan, accompanied by science fiction fanatic Rena Sharon on the piano, sang some memorable Mozart vocal music including my fave Warnung K.433. Kudos to Michael Juk, Don Harder, Derek Bird Matthew McFarlane and I hope pianist Kenneth Broadway comes back to play soon.
San Macareno de la Estocada
Friday, January 27, 2006
I have always thought that bullfighters should have more than the sponsorship of the Blessed Virgin Mary to protect them from the possibly fatal gorings of the bull ring. I had been unaware that some bullfigthers in the know also pray for San Macareno de la Estocada who is their patron saint. Here he is.
Carmen Aguirre and Isabel Allende
Thursday, January 26, 2006
When I had to photograph Vancouver based Chilean playwright/actress Carmen Aguirre with Isabel Allende I had the difficulty that such was the beauty of Ms Aguirre, when her eyes were open, that there was no way Ms Allende could compete. So this was my solution. As a little girl in distress Ms Aguirre wrote to Ms Allende who somehow helped to pull her out. Years later they met at the coffee shop of the Hotel Vancouver where I took this picture.
Patricia Hutter and Nicolo the Italian bass
Wednesday, January 25, 2006
I first met Patricia Hutter when I was learning to dance the Argentine tango. I found out she played and plays the string bass for the Vancouver Symphony Orchestra. She is from New York City and she is most sophisticated. She also paints. Best of all, she married my neighbour Robert Freedman so she lives nearby. Patricia often invites me to drink tea in her kitchen. I told her I wanted to photograph her with her bass. She said yes, but blushed when I mentioned I wanted her to pose on her bed. Here she is with Nicolo.
Much safer to eat
Tuesday, January 24, 2006
Jay Clarke (50% of Michael Slade) has found a safer replacement for Alberta beef.
The conservatives have won and I feel like
Monday, January 23, 2006
doing this. But since I don't indulge, I will see, at the Frederick Wood Theatre at 7:30 today Tuesday, the actor here (Jonathon Young), in the Electric Company's production: Studies in Motion: The Hauntings of Eadweard Muybridge. The play was written by Kevin Kerr, it is directed by Kim Collier and it has choreography by Crystal Pite. I just might forget about the Conservative victory. For a while.
http://www.pushfestival.ca/festival/studies.php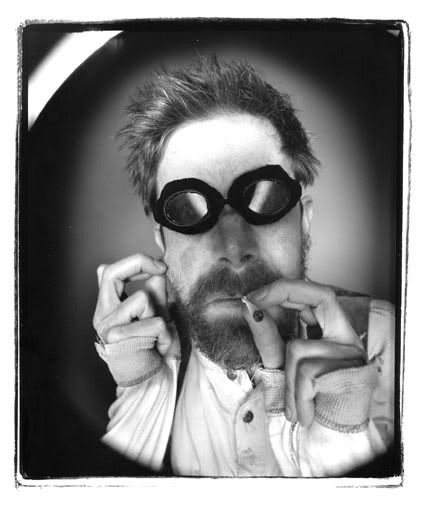 The bassoonist did it!
Sunday, January 22, 2006
Even though the bassoonist George Zukerman (Order of Canada) is a terrific musician there is evidence that the brutal killing of a deaf Chihuahua in White Rock with a blunt wooden object may lead to him as Ron the Detective is hot on the trail.
Alex in Guerrero, Mexico
Saturday, January 21, 2006
I wonder where my good friend the chief of the federal police of Acapulco would be these days. By now he would either be the ex chief or the dead ex chief. Perhaps not. He insisted in taking this photo of me in the sierras of the State of Guerrero. I was wearing my Danny Antonucci Lupo de Butcher T shirt. Next to me is the chief's "cuerno de chivo" or goat's horn the affectionate name that Mexicans use for an AK-47 The other big gun is a Nikon 200mm F-2 .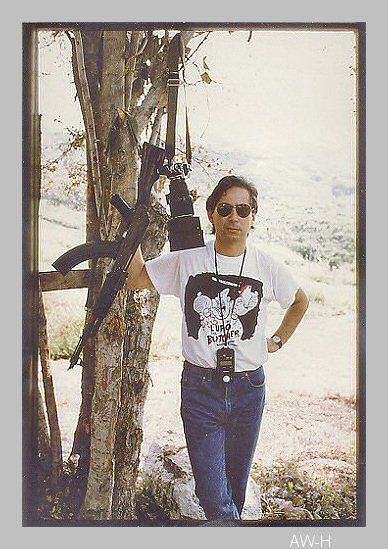 I am up thanks to the sweet smelling folks from Skunkworks
Friday, January 20, 2006
Thanks to the folks from Skunkworks my website is up. After showing me the ropes would you believe they even invited me for a hot Thai lunch?
Thank you
Skunkworks