Quetzalcóatl Versus Huitzilopochtli
Tuesday, July 31, 2007
Anybody who has ever spent time in Mexico and has chosen to explore the Mexico that lies beyond the beaches might arrive at the same conclusion that I did some years ago. In Mexico you have Mexicans and then you have
Jarochos
(from the state of Veracruz) and the Yucatecans. When Mexicans get drunk they get morose or violent. Their songs are sad, of loves lost. When
Yucatecans
and
Jarochos
drink their songs are lively and happy. I have discovered that the state of Veracruz was at one time the domain of one of the Mayan branches and that the culture of Tajín in Veracruz was a variant of the Mayans. This explains to me the kinship between these states and why our stay in Mérida has been a pleasant one.
Meridanos
are friendly and always smile. They are gentle, too. We never felt unsafe. Taxi drivers charged us the going rates no matter how much Rebecca would insist in speaking in English in the car.
While reading
El Conquistador
a new book by Argentine author Federico Andahazi (purchased at one of the many highbrow Mérida bookstores called Dante) I found out why Yucatecans are the way they are. El Conquistador is a reversed version of Columbus´ discovery of America. In this novel Quetza, an adopted son of a great Aztec wise man, sails east and lands in Huelva, Spain and discovers
his
new world. Quetza explains that for the ancient Mexicas the world was always in conflict. It was a conflict between the god of light and life, Quetzalcóatl and the god of death, war and sacrifice, Tezcatlipoca. For the Aztecs the the conflict is ultimately won by the latter in the form of their blood thirsty war god Huitzilopochtli.
But, and this is important, the Mayans, with a few exceptions worshipped the far gentler Quetzalcóatl (whom they called Kukulkán) and to this day I can see the influence.
As we leave today for Houston, Seattle and then home, I will try to keep my spirits up (we will no longer have the constant company of Rebecca) and think of the plumed serpent (Quetzalcóatl) and how he prevailed even over Rosemary. As we waited for a cab in the outside heat of the Hacienda Xcanatún she said, "I have come to enjoy the heat."
Buying Shoes For A Doll (Difficult)
Monday, July 30, 2007
On Saturday we took a bus (13 pesos for all three of us or $1.30) to the Gran Plaza shopping mall in the newer and richer part of Mérida. We zoomed through Sears and visited at least 10 shoe stores. For Rebecca the shoes were either too round at the front or made her look "girly". I am not sure what she means by this last term. Perhaps she means she does not want to look to much like a little girl. Another problem is that little girl shoes stop at the Mexican size 21 and the next size up is 2. Some stores carry a transitional half number up from 21. Rebecca liked many that were size 2 but these were simply much too big. When I pointed out that the round front was a classic she would say to me, " You are giving me the classic guilt trip," and would immediately reject the shoe. In one store I mentioned to the sales clerk that Rebecca would have a hard time shopping for shoes in the future with her husband. With a smile on her face she said, " First will be the problem of finding a boy friend with patience."
In the photo above which I took in Morelia last year you can see a pair of shoes that is a favourite of Rebecca's. By the time of Rebecca's tenth birthday on August 17th they will be too small. And another fragment of Rebecca's childhood (to my dismay) will be behind her.
Palenque & Beetles Again
Sunday, July 29, 2007
With little girls like Rebecca culture (or in this case the culture of ruins) has to be eased in. Uxmal and Chichén Itzá were enough even though we were very close to Kabah and Tikul. One place we will perhaps never see with Rebecca is Palenque in the state of Chiapas. When I was there all those years ago (27 or 28 years) I found it to be a magical, almost mystical experience. When I first spotted Palenque it was shrouded with a wet mist and it rained. The only way to keep the bugs at bay was to chain smoke my Veracruzan
Flor de la Costa
cigars. The place was almost deserted and I felt like Stephens and Catherwood discovering a place no white man had seen yet.
This morning while reading Stephens's account of his first entrance into Palenque I read this which caught my eye and brought me some memories I had all but forgotten.
The rain continued, with heavy thunder and lightning all the afternoon. At night we could not light a candle, but the darkness of the palace (Palacio de los Gobernadores, see first photo here) was lighted up by fireflies of extraordinary size and brilliancy, shooting throught he corridors and stationary on the walls, forming beautiful and striking spectacles. Known by name shining beetles, they are more than half an inch long, and have a sharp movable horn on the head; when laid on the back they cannot turn over except by pressing this horn against a membrane upon the front. Behind the eyes are two round transparent substances full of luminous matter, about as large as the head of a pin., and underneath is a larger membrane containing the same luminous substance. Four of them together threw a brilliant light for several yards around, and by the light of a single one we read distinctly the finely printed pages of an American newspaper. It was one of a packet, full of debates in Congress, which I had as yet barely glanced over, and it seemed stranger than any incident in my journey to be reading by the light of beetles, in the ruined palace of Palenque, the sayings and doings of great men at home.

Incidents of Travel In Central America, Chiapas and Yucatan
John Lloyd Stephens
It was in the province of
Corrientes, Argentina
, sometime around 1950 that my cousin Jorge Wenceslao found a couple of these shining beetles and with the cruelty that a child is certainly capable of we would put them on their backs and we would bet which one of our beetles would right itself first.
Uxmal & Rebecca Heats Up
Saturday, July 28, 2007
In comparison to Chichén Itzá Uxmal was a welcome and wonderful experience. Part of it was the fact that by driving we got there at 8:30 and there was nobody there. The entrance is modern, extremely clean and civilized. The guides (we didn't use one) all seemed learned. Rebecca objected to all the talk of our Juan Jara in Chichén so we saw the ruins without any explanation. Except for not being allowed to climb the extremely steep steps (I did so when I took the pictures you see here about 27 years ago) we were able to explore the ruins with all their intersting ups and downs.
Rebecca was more interested in the many iguanas of the site and decided that she did not need a hat to run around trying to follow the lizards. A few hours later she felt faint in our air conditioned Nissan (that drove like a truck as it had no power steering). She sort of recovered when we arrived at the cenotes I wrote about yesterday. A few hours later Rebecca figured out she had suffered from heat stroke.
The stone colour of the Uxmal ruins is an attractive pink unlike the bluish cast of Chichén. There was little in Uxmal to remind us of death and war. The ruins are inhabited by thousands of swallows that fly in and out from the corbled arches.
Even Rosemary managed to smile and enjoy Uxmal. But the smiles were even more plentiful when we feasted on some Mexican lemon (sort of like a lime) slush drinks. The cold went up Rebecc'a nose but she still finished her drink.
While I cannot post here the picture, I took a photograph of the
Palacio de los Gobernadores
which included (using an extreme wide angle) a reproduction of Catherwood's exact version of the same scene but done around 1842.
Perhaps tomorrow I will find the time to recount how it was that we swam in three cenotes and that the experience is one that is almost impossible to explain. It felt like we were in another time almost as if were were followind the footsteps of Stephens and Catherwood. It was in the cenotes that I accidentally discovered that the night scene setting of Rebecca's pink Samsung digital camera was the one that managed to capture the extreme contrast of the scene from the bright hole to the cenote to the darker (but crystal clear) waters below.
While driving back to Mérida (7pm), in roads so narrow that we had to slow down to a crawl to make sure the incoming vehicle did not side swipe us, we remembered we had not eaten anything since our 7am breakfast at the hotel. We bathed at the hotel and walked to Los Almendros (
in Parque de la Mejorada
). While I never really drink I have been enjoying one bottle of Yucatecan,
Cerveza Montejo
. As soon as we had demolished our
Poc Chuk
(flattened and grilled pork smothered in red onions) Rebecca was nodding off. We walked home in the hot evening and I mentioned to Rosemary that it all was similar to our walks, 38 years ago, in Veracruz. We could smell the salt air of a port even though Merida is not a port.
The Jeweled Beetle & Rebecca Cries
Friday, July 27, 2007
Around 1953 my mother had some interesting Mexican friends in Mexico City. Two stand out. One was
Alma Reed
who inspired the Mexican song
La Peregrina
and the other was a mysterious woman called Nicte Há who said she was a Mayan princess. One day my mother came home from a party and woke me up to show me what Nicte Há had given her. I expected to see something in her hand but she pointed at the lapel of her blouse. I saw a tiny gold chain and a largish jewel that was moving. This was my first glimpse of the makech beetle which in the 50s was all the rage in Mexico City cocktail parties. The beetle eats rotting wood (it must be kept moist) and if one does not handle it too much it can live up to 4 or 5 years.
On Wednesday night Rebecca pointed at a shoe box in a store selling Yucatecan crafts. It had several jeweled beetles and I was hit by nostalgia for Mexico in the 50s. I explained to Rebecca the beetle´s story and offered to buy her one. She began to cry shouting at me that I was cruel to accept such cruelty to an animal that was not a domestic animal. She cried all the way home as I tried to explain that in the simpler times of my mother´s day we would never have thought of such things. This was to no avail. Rebecca stopped crying as soon as we got to her hotel.
As soon as she opened her Judy Blume novel she began to laugh. When I turned off the lights she continued until I pointed out that she was going to wake up an exhausted Rosemary.
With the logic that her father had once owned a pet tarantula she asked to see the
makech
again. This we did yesterday. Now she is wondering how she could hide the two inch beetle in a match box and go through customs. Anybody there know what would happen if the magic Mayan beetle gets a shot of X-rays in Rebecca´s hand luggage? We discussed that she was right in thinking the practice was and is cruel. But she is still undecided.
On Tuesday in Celestún a sudden burst of speed of the launch that was taking us to see the flamingos wrenched my prescription (and bi-focal) sunglasses from my face and they disappeared in the waters of the lagoon. By the time I asked our boatman to stop they were long gone.
To avoid the incredible throngs of Uxmal Rosemary wanted to persuade me to drive a rented car to the Mayan ruins. We would leave early enough to arrive at opening time which is 8am. But I was not prepared to drive without sunglasses. So yesterday Wednesday I went to a nearby optical store to see if they had clip-ons.
For those who may be reading this now, we left for Uxmal at 7:15 in a rented Nissan. My new prescription and bi-focal sunglasses were delivered yesterday at 5pm! We plan to then drive to the three
cenotes
or sinkholes at Cuzamá, Chelentún, Chansinic'ché and Bolonchoojol. The latter means nine leaks in Mayan.
A Flamingo Fly-By Stinks Of A Disneyland Hippo
Thursday, July 26, 2007
To begin with what you see here is a stock image I found in Google Images. I do not have any instant pictures of flamingos even though we went to the ecological biosphere/reserve of Celestún today. It was an hour and half drive due north from Merida. We got pretty close in our 8 person launch but only a telephoto could possibly get them any closer. Rebecca was slightly disappointed that her digital camera was not doing the scene justice.
But then some flamingos flew buy and curiously their colour was deeper in flight than when resting on the very shallow waters of the Celestún lagoon. Watching them fly by (this happened repeated times) was thrilling in ways that the Discovery Channel documentaries on this bird could never even get close to. Rebecca mentioned the stench of the lagoon and I told her it was far better than seeing it without any smell from her living room chair.
Some 40 years ago I took my first cousin David Humphrey (he was 8) to the Mexico City Zoo. I showed him one of my favourite animals, a hippo in the water. David shocked me with, "He's boring. The ones in Disneyland make lots of noise and open their mouths." I tried to explain to David that unlike the hippo in Disneyland the one we were watching was flesh and blood. I resolved then to never go to Disneyland. The closest I ever got was dropping off Rosemary, Ale and Hilary at the door. When Rebecca, Bruce and Hilary were about to leave for Disneyland is just happened to be the morning of September 11. To date, Rebecca has not been to see plastic hippos.
An added bonus at Celestún was a trip through dense mangroves and swimming in a
ojo de agua
which is a large clear pool in the middle of the mangrove caused by the blending of an spring with the lagoon´s sea water. Rebecca thought it was a treat to swim in it even though I tried to tell her that there were crocodiles (a patent lie).
Casa Catherwood At The Dawn Of Lithography
Wednesday, July 25, 2007
On Monday I satisfied my curiousity and went to
Casa Catherwood
. They have on display 25 original lithographs published by Catherwood in England. Originally he did them to illustrate his collaboration with American writer/diplomat John L. Stephens,
Incidents of Travel in Central America, Chiapas and Yucatan
which was printed after their trip in 1842.
It was a special treat as I have seen reproductions (many very poor) in books for years but never an original from the limited edition of 300. To see these lithographs in full colour without the humanity of thousands that is the reality of 2007 is thrilling as is to see the ruins before their improved restoration.
The original jungle has been removed and one is mercy to the implacable Yucatan sun over one's head.
Not as well known as Stephens's and Catherwood's original
Incidents of Travel in Central America, Chiapas and Yucatan
is their second effort,
Incidents of Travel in Yucatan.
In the first book both travelers have to leave Uxmal suddenly as Catherwood comes down with a terrible fever. In Incidents of Travel in Yucatan, there are new Catherwood lithographs but there is also a detailed history of the conquest of Yucatan by the Spaniards and interesting account on how almost Texas and Yucatan became a country on its own. There is also a one year record (September 1842 to August 1843) of the temperatures in Merida in the morning, noon and the evening. The temperatures, similar to the ones we are experiencing now, do not reflect the extremely high relative humidity.
When possible, Rebecca wants to be in our hotel pool! Curiously only now did I find out that Catherwood used the camera obscura to help him get his sketches right. And both Stephens and Catherwood started a short lived (they experienced a brief beginner's luck) y venture of taking portraits of beautiful
meridanas
using the complicated method of the Daguerreotype.
El Caracol, Chichén Itzá & A Flat in Hoctún
Tuesday, July 24, 2007
None of the above images that I took all those years ago at Chichén would be possible now. I would have never suspected that at least ten thousand people would converge daily there as was the case today. People were everywhere. Rebecca goto bored as nobody is allowed to climb any of the ruins. In a few years we would make them disappear more quckly than natural erosion.
Returning in our tour bus we had a flat and the flat was repaired at a charming little town called Hoctún. A lady with red hair protested but the rest of us took the opportunity to ride the towns taxis called
tricitaxis
in which a driver pedalled behind us as we sat under a seat and canopy in the front. The unplanned events that always happen in Mexico can be charming as this one was.
Six Fingers & The Malecón
Monday, July 23, 2007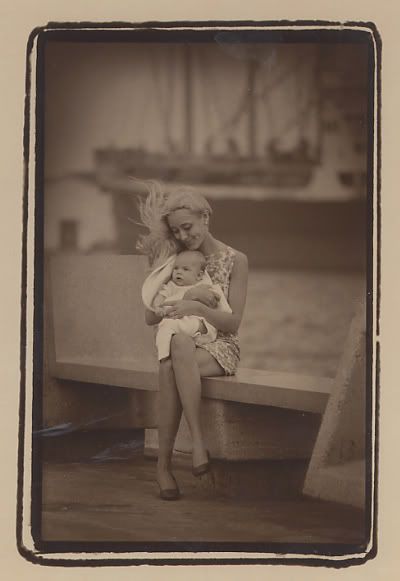 We had a pleasant day in Mérida yesterday. On Sundays the plaza principal and immediate streets are closed to traffic except for bicycles. Eveything that can be sold is sold at the square. And there is non stop musical entertainment. There was a group singing really swinging rock until I noticed the lyrics were all about the
Lord
and saying yes to
Him.
It was a modern revival group. Of course Rebecca had a question on her face. We bought some handbags from some native women who had come from Chiapas. A little girl with them (4) was touching Rebecca's painted finger nails. It was then that Rebecca told me the little girl had two thumbs in one hand. From there we went to a bookstore with a very highbrow approach to its merchandise. Incredible as it may seem they are a chain all over Mexico. In the evening we caught the Da Vinci Code on HBO. Rebecca had many questions and understood part of it. I will have to explain the plot to her on the way to Chichén tomorrow. I will have to be careful to explain to her that nephew Jorge O'Reilly in Buenos Aires is not a villain even though he is in the
Opus Dei
In a few days we are going to take a little bus to the port city of Progreso that is about 30 minutes away. It is the favourite retreat for the
meridanos
. It has a very long peer and a white sand beach. Tourists avoid this beach as they opt for the more popular beach in Cancun in the nearby state of Quintana Roo. As we stroll on the
malecón
(seaside walk)both Rosemary and I will be taken back 37 years when in the Veracruz malecón we were surprised by a sudden norte where I took this picture of her with Ale.
Sanborns In Merida
Sunday, July 22, 2007
Yesterday we took a cab to el Fogoncito and had some
carne al car
bon tacos. I drank horchata which is a drink made from rice flower, water, sugar and cinammon. For dessert Rebecca had crepes smothered in cajeta (dulce de leche in my country as this word is unmentionable). From there we hopped on a bus and went to a Sanborns which is always Christmas in July. Rebecca settled for a cute plush armadillo made in Indonesia just like Chippy, a beaver we bought last year in Sanborns in Morelia. I had to control myself from spending too much on the excellent variety of books in Spanish that one always finds in Sanborns. Rosemary was undecided about buying her Carlos V chocolate which she finally bought at a store near the hotel.
Rebecca seems to want to swim all the time so we did this in the evening. It rained and thundered for a while. Wheather here, unlike anything else, seems to be fast moving.
Today we will spend time in the plaza principal where there are all kinds of all day festivities. In between Rebecca will find time to do her swimming.
Alas we did not find a sailor dress in Sanborns as I did some years ago at Cancun. Perhaps we just might buy a dress for Rebecca today. But the problem is that Rebecca does not want to wear dresses as she says she looks
girly
in them.
Mexicana
Saturday, July 21, 2007
Rosemary and I were school teachers in Mexico City 35 years ago. We decided to sell our house and move to Vancouver. We quit our jobs thinking that the house would sell quickly. It didn't. I had to make money, some way. With a very used Pentax S-3 and three lenses I started taking portraits of children and teenagers for wealthy Mexican families. The business took off and I was being referred from one family to another without having to promote myself. The business had its downs because of my primitive darkroom equipment and having to dry mount b+w photographs (it was the rage to stick a photograph on thick wood whose edges were painted black) with a common clothes iron. We finally sold the house even though my neighbours were urging me to stay as I was making good money. On the way to Vancouver we stopped in LA (we drove a VW Beatle with a roof rack and had our daughters in the back seat)and I purchased better equipment. A few years later, sometime in 1977 or 1978 I made a trade with Mexicana to go to Oaxaca, Yucatán and Chiapas where I visited an almost deserted and rainy Palenque. Because I stopped over in Mexico City for a few days one of the wealthy families asked me to photograph their children again. They were particularly proud of one of their daughters as she was beautiful and almost blonde.
Looking through my Mexican photographs I located this one contact sheet that had three disparate images on the one page. One was of the young girl (I used vaseline, how terrible!), another was a Mexicana DC-9 (horrors I used vaseline on that one, too) and the last was the interior of the cave at Loltúm in Yucatán. Of the latter I remember the great heat and a humidity that made it seem like I was taking a warm shower.
But today Saturday we have learned that the heat is most intense from April to late June so we have missed a bit of it. The temperatures hover around 84 and the breezes in our hotel make it seem even less. The hotel is odd in a very nice way. Many of the areas, including the front desk are in the open air so they cannot be air conditioned. But our room and other specific meeting rooms do have air conditioning. The hotel pool, unlike most pools this day is a real one with a deep end and Rebecca is practicing her dives. Rebecca has fallen in love with the hotel b black cat called Michò. Our breakfast waiter, explained that the word is cat in Mayan.
La Música
Friday, July 20, 2007
Today we finally left the state of Texas. Nothing in Texas is ever in moderation. As an example Howard´s twin cab Ford 150 (King Ranch Edition) is huge and I always forgot to use the running board to get off and managed to fall off a few times. The ciccadas were vibrating through most of the afternoons. The noise is the kind that wants me to sleep siesta. It reminded me of the lazy afternoons in Corrientes in Argentina. Rebecca fished for the first time in her life. Howard was a patient teacher. And because it was Texas Rebecca had extraordinary good begginer´s luck. She caught five perch. She was also attacked by Texas chiggers and has been suffering the consequences. As we left Kingsland we said goodbye to Curly the dromedary, to Howard and Lynne (at the San Antonio airport) but not before going through heavy rain that hit the windshield with extraordinary force. The distant thunder was a noisy goodbye from my Texas, the state in which I made the transition from a boy to a man.
When our airplane landed in Merida we immediatly were subjected to the noises of Mexico which to me (particularly when I haven´t been in Mexico)is music. Our hotel, Casa del Balam (paradoxically while I am able to insert accents in my Vancouver computer the ladies here at my nearby internet cafe do not know how to get one)is smack in the middle of the city. I look forward to hearing the bells of the cathedral, la catedral metropolitana, on Sunday morning. Our hotel, on Calle 60, is in the area where all streets are cut off to traffic on Saturday afternoon and all day Sunday so that musicians and dancers can show off. I am sure that we will be able to listen to some band like the one here which I photographed in San Miguel Allende, Guanajuato.
La Muerte
Thursday, July 19, 2007
One of the great perks of my 1997 trip to Mexico is that I had a blanket permit to shoot whatever I wanted from the Tourism Secretary. I don't remember exactly where I photographed this skull but I do remember that a tourist asked me how I had managed to obtain permission. A skull in Spanish is
calavera
. I like its sound. It is musical and scary at the same time.
On Thursday we went to the Johnson City Zoo and fed some animals. They converged around our caged cart as it began to rain. Rebecca was feeding them and I saw the sad eyes of some large deer-like animals that Rebecca called Moosettes. I became sad as the rain soaked us. I thought of death and of a passage from John Lloyd Stephens's
Incidents of Travels In Central America, Chiapas And Yucatan
.
Go where we will, to the uttermost parts of the earth, we are sure to meet one acquaintance. Death is always with us. In the afternoon was the funeral of a child. The procession consisted of eight or ten grown persons, and as many boys and girls. The sexton carried the child in his arms, dressed in white with a wreath of flowers around his head. All were huddled around the sexton, walking together; the father and mother with him. I happened to be in the church as they approached. The floor of the church was earthen, and the grave was dug inside, and the father seemed proud that he could give his child such a burial place. The sexton laid the child in the grave, folded its little hands across its breast, placing there a small rude cross, covered it over with eight or ten inches of earth, and then got into the grave and stamped it down with his feet. He then got out and threw in more, and, going outside the church, brought back a pounder, being a log of wood about four feet long and ten inches in diameter, and again takinghis place in the grave, threw up the pounder to the full swing of his arm, and brought it down with all his strength over the head of his child. My blood ran cold. As he threw it up a second time I caught his arm and remonstrated with him, but he said that they always did so with those buried inside the church; that the earth must be all put back, and the floor of the church made even. My remonstrances seemed only to give him more strength and spirit. The sweat rolled sown his body, and when perfectly tired with pounding he stepped out of the grave. But this was nothing. More earth was thrown in, and the father laid down his hat, stepped into the grave, and the pounder wasa handed to him. I saw him throw it up twice and bring it down with a dead, heavy noise.
Wednesday, July 18, 2007
We made it to Seattle on Sunday Night and on Monday we flew to Houston. Howard was waiting for us at the airport in San Antonio. It was a special thrill to to hug someone I had not seen for 46 years. It was odd to listen to Howard's Texan accent. It seemed to me that special effort had to be made to talk like that. I am sure he thought the same about my Canadian accent. It was also odd to drive with Howard on a the highway to his house in Buchanan Dam, Texas. The scenery was familiar. In my memory the conifers and the mountains of my Vancouver were the ones that seemed alien. Having lived four years of my life when I was a teenager in Texas I was really home.
Howard, his wife Lynne, Rosemary, Rebecca and I headed in Howard's white 1994 Lincoln ("It has seating room to accomodate Brother Edwin, " he told me.)to Austin. The red roof tower of the main building of St. Ed's was more thrilling to see than the tall (the tallest of any state capitol or the one in DC) Texas State Capitol. The main building was as imposing (if not bigger) than I imagined it in my memory. And there was Brother Edwin much shorter that I remembered him. Rosemary is five three so she calculates he must be five ft at the most. Brother Edwin gave us a tour of the completly modified and re-furbished building. I could not see the high ceilings of the dorms where I slept when I was in grade nine and grade ten. My room in grade eleven was converted to a men's and a woman's batrhoom and my grade 12 space was the elevator.
After taking panoramic pictures of the building with the almost anachronistic presence of Rebecca we told Brother Edwin we would return in the afternoon to take him to the County Line for a Texas barbecue.
Of my experience with Albert Einstein at the H Ransom Center at the University of Texas and of eating liver and onions at Furr's Cafeteria I will write some other post.
Brother Edwin confirmed in spades the excellence of the education I obtained at St. Edward's High School. At 75 Brother Edwin is enthusiastic and fit. I did not remember him laughing as much or giggling as he did yesterday. He explained to Rebecca through the example of fractions being converted into decimals how people as they age get closer to people who are much older than they are. I asked Rebecca what she thought of Brother Edwin. The first word she uttered was, "Cute."
In another blog I mentioned how the compact Brother Edwin lifted one of my classmates with his left hand and pushed him to a wall and told him to be quiet. At long last we found out how this was possible. Brother Edwin's father and uncle excelled in olympic rings. Brother Edwin inherited this ability. He was very athletic. Being made temporarily in charge of a reformatory, Brother Edwin had no problems with discipline. One day he went into the weight room and quietly lifted more weight than anybody there.
They say one cannot go home again. I did. I found home better than ever and Brother Edwin was so much more than I knew. Back then I was too shy or perhaps it was not proper to ask questions about this personal life. Lynne put it best, " He is comfortable in his own skin." Best of all I was not alone in realizing all this. I was able to share it with Howard. It is my hope that Rebecca never forgets this lesson.
Green Angels In Yucatán
Monday, July 16, 2007
It believe that it was in 1979 that I made a trade with Mexicana de Aviación to take pictures in Oaxaca and Yucatán in exchange for airfairs and lodging. I was a bit rough around the edges in knowing how to photograph landscapes or deal with the contrast problems of an extremely sunny Yucatán. Looking at my slides now I realize that they are all Kodachromes.
The high point of my trip was when the Tourism Ministry decided to attach me to a unit of the Angeles Verdes (green angels). They were an incredibly unsophisticated but extremely effective free roadside service that was supposed to aid tourists in distress across the main highways of Mexico.
In actual fact I watched Jorge and Sergio repair cars that never should have been on the road. They were owned by campesinos. The repairs were done with wire and or assisted by a gentle tap in the right place.
Jorge, Sergio and I went to the usual places in Yucatán like Chichén Itzá and Uxmal but they also took me to unknown ruins or henequen haciendas like the one here of
Yaxcopoil
that was established in the 17th century.
I have long forgotten where it was that we stayed nights but I do remember that we consumed prodigious ammounts of Coca-Cola. It was the hot and dry season and we just could not get enough liquids to remain in our body.
I remember the adventure fondly. It will be interesting to walk on the footsteps of the ghost of my past with Rosemary and Rebecca. Note that I am in the middle with Green Angels in Chichen-Itzá.
Miss Willmott's Ghost
Sunday, July 15, 2007
I took this photograph of one of our three Eryngium giganteum 'Miss Willmott's Ghost' a few days ago. As we leave in a few minutes on our drive to Seattle to catch our plane to Houston and San Antonio I hope she will protect our garden and house, that Bruce Stewart (Rebecca's father) will not have too much trouble watering the garden, the house plants and feeding Plata and Toby. I am not ready to move into a condominium real soon. But I do understand that all that pre-trip stress would vanish!
Rebecca & The Agave
Saturday, July 14, 2007
When I saw the possibilities of this picture (taken two years ago) inside the Macmillan Conservatory at Queen Elizabeth Park the middle of a Vancouver winter I was magically transported to Mexico. The lack of colour (the ochres, reds and browns of Mexico) made the scene Mexican but sombre. Rebecca looked sad and I did nothing to change her mind. I was particularly attracted to the overall monochrome cool blue green of the photograph.
Last week when we were helping our eldest daughter Ale settle in her new house in Lillooet I practiced what my mother taught me. She told me that a house was never a home until you put pictures in the wall. I unpacked Ale's framed photos and immediately put the above picture of Rebecca in Ale's bedroom. The nail was on the wall, already. With the picture up the three of us saw it. We didn't have to communicate verbally that the picture belonged there and that the house was becoming a home.
Proliferating Roses, Lord Cochran & Captain Jack Aubrey
Friday, July 13, 2007
May 6, 1801: Speedy (14 guns), Lord Cochrane, takes the Spanish frigate El Gamo (32 guns).
Lord Cochrane
the 10th Earl of Dundonald 1775-1860 is an honest to God hero. I first became curious when I spotted a large statue of him in Santiago, Chile in the 60s. The statue plaque stated that he had founded the Chilean Navy. Further investigation led me to find out that Cochran had ferried
General Don José de San Martín's
troops from Valparaiso to Callao where the Argentine general liberated Perú from the Spaniards. Later on, in a war between Argentina and Brazil, somehow the Irish-born founder of the Argentine navy Almirante Guillermo (William) Brown commanded a fleet against Cochrane who led the Brazilian navy. In 1801 when Cochrane captured
El Gamo
he used the ploy of hoisting an American flag to confuse the Spaniards.
In Patrick O'Brian's
Master And Commander
, the first of his superb nautical novels,
El Gamo
becomes the Spanish xebec-frigate
Cacafuego
and the
Speedy
is the sloop
Sophie
. His Majesty's sloop
Sophie
is led by Commander John Aubrey whose personality is much like Cochran. Both Cochran and Aubrey(not so swift on land as on the high seas) become involved in financial scandals.
The recent, extremely hot weather preceded by a very wet spring has made many of my roses ball-up and not open. This has been a plague with the multipetaled Bourbons and the Albas like Maiden's Blush and my recent aquisition the hybrid Alba
Königin von Dänemark
. Today I inspected the plant and found that the flowers were wilting at the edges and one flower in particular (above, at bottom of the rose scan)was a good example of what we rosarians call
proliferation
.
Peter Beales says of proliferation in his
Classic Roses
:
Some of the more double-flowered old-fashioned roses will occasionally sprout a molformed bud from the centre. This is known as proliferation and is a most unpleasant sight. The phenomenon usually occurs in the early flowers, and in the case of the repeat-flowering shrubs, seldom reappears on autumn flowers. Close inspection of the misshapen flowers reveals that for some reason, probably genetic, the reproductive organs, in particular the pistils, have become fused, and instead of developing normally, have changed into another complete flower bud, which grows out of the centre of the bloom.
When I looked at the proliferating flower of my Königin von Dänemark, after the initial shock, I immediately thought of
Master And Commander
, my favourite Patrick O'Brian novel from the series that feature Captain Jack Aubrey and his physician/spy friend Stephen Maturin.
In the first chapter Jack and Stephen meet at a concert at the Governor's House music room in Port Mahon. The concert highlight is
Locatelli's C Major Quartet
. Maturin and Aubrey disagree on the beat of the piece and they almost duel over it. But in the end, reason prevails and they become inseperable friends.
I thought of the Spanish xebec-frigate Cacafuego because the proliferating rose looked like it was throwing up (spewing from inside) green fire. Cacafuego literally means shit spewer.
The Vulture & Fútbol
Thursday, July 12, 2007
Last night I watched the Brazilians lose to the Spaniards in the FIFA Under 20 Tournament. With Juan Manuel Sanchez living in Buenos Aires permanently and with Rosemary not understanding or caring to watch the game I felt extremeley lonely. I had a longing for the presence of my mother. Perhaps it was her exposure to
fútbol
in Argentina. As a young man in Mexico my mother liked to watch
fútbol
with me. We both believed in the idea (shared with Juan Manuel Sanchez) that if we watched our favourite team play (mostly Argentina)it would lose. We agonized about watching Argentina play Mexico as we agonized watching the Argentine players lose their breath (and often the game) in the oxygen-rare Mexico City atmosphere. My mother and I shared a dislike for the play by play comments of Fernando Marcos. He was pompous and in our opinion not balanced at all in his comments. He had a fondness for saying that every minute had 60 seconds and that in
fútbol
anything could happen in that minute. My mother called him "el buitre" or the vulture. The Argentines might be losing a game and with a few minutes left for the game Marcos, with a smile on his face would utter his words of wisdom on the markings of time. We didn't dislike Marcos, we hated him.
Watching the Brazilians lose to the Spaniards was heart wrenching for me. My Spanish heritage had me rooting for the Spaniards but my heart was with the beautiful play of the Brazilians. It was unnerving to hear the commentators pronounce the Spanish names and make them sound not so. Barragán sounded like Berrigan.
I saw some of the best
fútbol
of my life as a sailor in Buenos Aires in the mid 60s. And in most cases it had to do with the Brazilian brand of the game. One of the few privileges a one-US Dollar-a-month conscript had was free entry to
"partidos de futbol"
if one wore one's uniform. I saw Santos of Brazil (in dazzling all-white uniforms) with Pelé (at his best) play in the cavernous Estadio River Plate. In fact in one of the games (from my vantage point high in the upper bleechers) I could see the tanks of the Argentine Army rumbling by on their way to town to a
cuartelazo
or coup d'état. For us the game was much more important so we ignored it all.
But watching the Brazilians lose was not so heart wrenching as Argentines and Brazilians have been
fútbol
rivals for almost a century. Argentines and Brazilians would always join forces in condemning the technical/strategic European playing particularly of the German variety. This was futbol at its most boring. The Brazilians and the Argentines would complain (while losing to them) that "No nos dejan jugar. " or they don't let us play our game.
With Brazil and Uruguay gone, the mantle of
futbol latinoamericano
(in the Under 20 FIFA) lies at the feet of the Argentines and the Mexicans. I would welcome the comments of Fernando Marcos if they only brought the presence of my mother. And even if the Argentines or the Mexicans were to lose to the Spaniards I know that, in the very least with Marcos, Barragán would sound like a Spanish name.
Homemade Root Beer On Musqueam Nation Property
Wednesday, July 11, 2007
Sooner or later I will have to purchase a handy digital so I can take handy photographs. But something tells me that a photo that would illustrate yesterday's story would not be quite right.
I took Rosemary and my daughter Hilary and our granddaughters Rebecca and Lauren to the opening of
Michael Nicoll Yahgulanaas's
work at the Museum of Anthropology. It was a late sunny afternoon.
Rebecca was particularly fascinated by the sight of a car that Yahgulanaas painted black, and all the trim metallic copper. Bill Reid's canoe sat on top of the roof. She giggled, doing exactly what Yahgulanaas had asked us to do (during his speech) when looking at his work (above is Bone Box, detail).
After the speeches we went outside for a hamburger barbecue complete with potato salad and home made root beer. I was sitting on a rock talking to a beautifully dressed older gentleman with white hair. I was sipping on my root beer and he on lemonade. Rebecca came along. I asked her to ask the man what his connection with the museum was.
"What is your connection to this museum?"
"I am the architect who designed it."
Winchester Cathedral
Tuesday, July 10, 2007
On of my favourite books is David Macaulay's 1973
Cathedral
. The beautifully illustrated book on the construction of the imaginary cathedral of the imaginary French town of Chutreaux fills me with a sense of wonder on the power of man. We don't need aliens to help us build pyramids. We only need masons.
All this came to mind this morning when I walked in the garden and noticed that one of the opening flowers of the English Rose R. 'Winchester Cathedral' had that little but still perfect flaw of colour on what is usually an all white rose. I wrote about it here
Leda
.
It is difficult not to be awed by the tall vaults of cathedrals and the ceilings of Victorian train stations. I am particularly attracted to the smells of decaying stone mixed with the humanity of centuries. I could smell just that when I walked on the roof of Notre Dame in Paris.
Coincidentally I have begun Candace Robb's
The Cross-Legged Knight
which is a murder mystery set in York in 1371 and one of the principal protagonists (who thinks someone is out to kill him) is William of Wykeham, Bishop of Winchester and former Lord Chancellor of England who in real life struggled with King Edward III by supporting his son the Duke of Lancaster (John of Gaunt).
Again that the sight of a beautiful rose in my garden can diverge my thoughts to all the above is but my proof on the merits of that good garden plant.
A Crinkle On An Otherwise Perfect Day
Monday, July 09, 2007
The only crinkle in the otherwise perfect day yesterday was that I had to finish of the chicken breasts on the frying pan because my outdoor barbecue ran out of gas.
Since Rosemary and I were in Lillooet on Saturday we had to exchange our baby sitting schedule with Nana (Rebecca and Lauren's other grandmother). This meant we had them yesterday instead of the usual Saturday.
We were sitting at VanDusen Botanical Garden watching the girls run around near and in (luckily nobody was watching as I am sure the keepers would object) the waterfall by the meconopsis dell. Rosemary mentioned that having the girls on a Sunday messed up her schedule and her preparation for her Monday office job which she never looks forward to. I had to remind her that the office job, and just about anything else could not compare in importance or provided as much pleasure as spending a day with Lauren and Rebecca. They don't fight. They don't whine. They eat at meals with gusto and they almost never fight. Lauren scraped her knee while running in VanDusen and she did not cry long as soon as her sister hugged her.
Rebecca and I identified some red astilbes in VanDusen. She was confused as the ones in our garden are white. And in our garden we learned the botanical name of the Sensitive Fern,
Onoclea sensibilis
and that of the Royal Fern,
Osmunda regalis.
Her knowledge of botanical Latin and Greek will serve her well later on in life.
Both girls were cooperative when I asked them to pose for me. I took photographs with colour transparency but here are some of the black and white Polaroids.
I cannot imagine a more pleasant day than yesterday. It is more fun for me since I have learned to let go of my worries and just enjoy the company of the girls and watch Rosemary
almost
relax.
And to think that beginning July 14 we will have Rebecca all to ourselves until the 30th! I look forward running up and down the pyramid of Kukulkan at Chichén Itzá and the House of the Magician at Uxmal with Rebecca. But then Rosemary is already beginning to worry about the Mérida weather reports. They all read the same:
Cloudy or sunny, humid and the maximum temperature hovers around 39.
Leda - Another White Rose Bleeds
Sunday, July 08, 2007
In Greek mythology, Leda (Λήδα) was daughter of the Aetolian king Thestius, and wife of the king Tyndareus, of Sparta. Her myth gave rise to the popular motif in Renaissance and later art of Leda and the Swan. She was the mother of Helen of Troy, Clytemnestra, and Castor and Pollux.
Leda was loved by Zeus, who seduced her in the guise of a swan. As a swan, Zeus fell into her arms for protection from a pursuing eagle. Their consummation, on the same night as Leda lay with her husband Tyndareus, resulted in two eggs from which hatched Helen - later known as the beautiful Helen Of Troy, Clytemnestra, and Castor and Pollux.
I will keep pursuing the theme here on how my plants, in particular my roses make me associate and think of topics that would normally have nothing to do with a garden.
The rape of Leda is strangely depicted in a copy of a lost Michelangelo painting as the penetration of Leda's mouth by the swan's beak.
The rose shown here.
Rosa
'Leda' is a Damask from the early 19th century,. There are two versions. The French one is pink with red edging while the English one (my specimen) is white with the same red edging. I would suppose that the red represents the blood caused by the swan's repeated thrusts. Information on Damask roses is confusing. They resemble Gallicas but some of them like
'Quatre Saisons'
bloom more than once. Leda can sporadically bloom in the fall.
As much as gardeners put value in plants that flower more than once and will in many cases ignore old roses that are not remontant I have discovered that Gallicas and specially Damasks make up for their lack of remontancy by having a very long (Leda blooms at the end of May, all of June and as you can see here, she is still at it.)one time blooming season. When you consider that they are also intensly fragrant it is hard to understand why they may be ignored as good garden plants.
The appearance of red or pink in the edge of a white rose is not all that infrequent.
In my own garden there are two English Roses that do this. One is Winchester Cathedral and the other is
Fair Bianca
. Perhaps I will have to wait a while before I teach Rebecca the story behind my beautiful Leda.
Michael Nicoll Yahgulanaas
Saturday, July 07, 2007
When I first came to Vancouver some 32 years ago I was full of the wrong information of race. I was from a generation of the red man, the Chinaman, and thought the Japanese had yellow skin. I was astounded to find out that native Canadians looked exactly like the natives of Mexico except they did not understand my Spanish.
You are seeing tomorrow's blog today because I will be in Lillooet today and tomorrow Saturday. My daugther Ale has no internet connection yet. One of her ambitions in Lillooet is to be able to teach native Canadians. My Mexican born daughter has such a connection with her country that I think she will do fine.
I wrote in the past of my excitement in watching
Karen Jamieson
and her rare but exciting blend of modern dance with Native Canadian dance. I want to happily report that Michael Nicol Yahgulanaas seems to be doing the same thing with the visual arts. I photographed him last week (in preparation for this coming Tuesday's opening at the Museum of Anthropology) with one piece from a series called
Coppers from the Hood
. This particular one (a beautifully painted and with a copper leaf inlay) is a car hood that tells the story of two sisters. I chose, on purpose not to show any totem poles or any other Native Canadian artifacts.
I enjoyed Michael's personality and I think his work will help to bring some humour and lift some of the formality that so many of us seem to want to feel when exposed to this art. My b+w photograph does not do justice to the lovely tones of the copper leaf but the false colour does give an idea of what it would be like.
The Other Side Of Two Dimensions
Friday, July 06, 2007
Sometime in 1985 I read A.K. Dewdney's
The Planiverse
, a strange novel about a two-dimensional world. Whenever I run into Dewdney Trunk Road (it seems to start and stop and meander through much of the Lower Mainland) I think of the
Planiverse
. Just like the inhabitants of
The Planiverse
would never think to look up and discover the third dimension, somehow it would be just as impossible to drive the length of Dewdney Trunk Road without getting lost, or would it?
Five years ago Rosemary and I took Rebecca (then 5) to our first vacation trip together. We went to
Washington DC
. We saw a few paintings at the National Gallery but I left the best for last. I took Rebecca to the special room and she stared at the 16 13/16 x 14 9/16 oil on panel and said, "Papi, she looks like the Mona Lisa. This must be a painting by da Vinci." Was I really proud of her! What is not generally known about
Ginevra de' Benci
is that the painting has two sides, an
obverse
one.
I have never tried to tell my Scottish heritage son-in-law, Bruce Stewart, my Scottish joke about the one-sided pancakes which cost less than the two-sided variety!
The "rules" of composition in photography are artificial tricks that are supposed to induce the movement of a viewer's eyes when the viewer looks at a photograph. Photographs that work will have at least one diagonal line or the horizon line will not be equidistant from top and bottom as that would create, instantaneously, two equally boring photographs. These "rules" try to overcome the limitation that a photograph compresses (supress is perhaps better here) our three dimensional reality into two.
Since so many of the professional digital cameras (DSLRs) as well as the professional film ones (SLRs) have focal plane shutters, they create photographs in which one section of the photograph (where the shutter starts) will be earlier in time than the last part of the photograph. Without going into more confusing details, few of us realize that these photographs, while supressing that third dimension, depth, do include the fourth one, time! In brief in a portrait of yourself the top of your head will be "younger" than your feet.
But I would disagree that a photograph has only two dimensions (if we eliminate time). Da Vinci's portrait at the National Gallery is a good example. A photograph, a good photograph printed on heavy art photographic paper, will have an edge and heft. Vintage photographs (printed at about the time that they were taken) by such photographers as Edward Weston or Manuel Alvarez Bravo, will be signed in pencil on the back. It might have a date and or a dealer's stamp. For me these photographs, even mine, have three dimensions. I can hold them, I can cradle them, I can tear them and fold them.
On February 24 I gave a little talk at the Northern Voice Blogging Conference at UBC. As I spoke I had
that day's blog
projected behind me. It featured one of my favourite photographs of Rebecca. I had also brought a hard copy (a very large, beautifully framed light jet print) and had placed it behind me. After my talk a woman (there were perhaps a couple of hundred people in the room) came up to me and said, "I don't understand why you brought that (pointing at the framed photograph), after all you had it projected behind you."
That left me shocked and speechless and I have given it much thought all these months. I have come to the conclusion that our visual world (the world of pictures we look at) is in a transition from a two (really three) dimensional world to one of a true two dimensions as seen on a monitor or flat screened TV. Not only is that happening very quickly but it is also a transition from the static layout of a photo album, a magazine or a picture book to one of images that scroll in a rapid sequence.
It would seem that the cutting edge world of web design is being forced to incorporate video. One image is not enough. So we have flash and Flash and other named versions of Flash and flash. I would argue that just as Cinemascope could not in the end compete with the ease of flicking on a TV set our web as we know it will be doomed (will it?) if it attempts to imitate TV.
At my age (64) I must attempt to be objective and not denigrate this transition. I might like to hold a photograph that might even smell of fixer (and thus not be properly washed) but that does not mean that the two-dimensional images with all that contrast and vivid colour of a computer monitor are to be deemed inferior.
Until those monitor images (in those strict two dimensions) incorporate a true third of depth (as in 3D) I will personally enjoy the heft, smell, feel and that
other
side of a paper photograph!
Thursday, July 05, 2007
Many erroneously believe that Humberto Eco invented the medieval monk sleuth in his 1980
Il nombre della rosa
. The fact is that Brother Cadfael appeared in Ellis Peters's 1978
A Morbid Taste for Bones.
I have enjoyed all of the books of this series and even met the writer Ellis Peters when I traveled to Shropshire in the late 80s.
Now in a week I will be meeting up with my ex-religion and theology teacher Brother Edwin Reggio C.S.C. at St Edward's University in Austin, Texas. I figured that a man with an artistic bent might enjoy one of my rose giclées (French pseudo art speak for a high quality ink jet print). Of all my roses which one would have a connection (even a tenuous one) with him? I though of the English Rose,
St. Swithun
could be a possibility. I finally settled on English Rose
Rosa
'Brother Cadfael' (left). I never met St Swithun but after reading all of the Brother Cadfael novels I can see a bit of Brother Edwin. Brother Edwin was compact and powerful. Before becoming a monk Cadfael was a knight in the crusades. I have seen Brother Edwin pick up, with one hand, Byron Todd, the largest fellow student in my class, , push him into a wall (I remember Todd's feet dangling over the floor) and then calmly tell him, "You behave or you are going to be in trouble with me!" I am sure Brother Edwin could have handled a broad sword with ease.
I am particularly excited that Rebecca is going to meet Brother Edwin so I was trying to find another tenuous connection. This was easy. One of Rosemary's favourite perennials is the handsome
Aconitum napillus
with its brilliant blue flowers that resemble a monk's hood and the reason this plant is commonly called Monkshood. Every part of this plant is deadly poison so from the beginning we realized we had to grow these tall plants (to 6 ft) in the back of the border where they would be far away from Rebecca who started running around in our garden as soon as she could walk. Monkshood also reminds me of the third installment of the Cadfael mysteries which is called Monk's-Hood!
My copy of
The Cadfael Companion - The World of Brother Cadfael
by Robin Whiteman has this to say of the plant:
Monk's-Hood (also Wolfsbane or Aconite)(Aconitum Napellus). Poisonous. Novels. Ground root of the plant, mixed with oils, used for rubbing deep into aching joints to relieve pain. Annointing oil of monk's-hood stored in a great jar. Extremely poisonous if swallowed. A small dose killed Gervase Bonel. Reference Monk's-Hood(1-6-9)
Nostalgia & Penguins In The Arctic
Wednesday, July 04, 2007
When I visit my first cousin and godmother Inesita O'Reilly Kuker in Buenos Aires we talk a very proper English but here and there we will pepper it with words in Argentine Spanish or words from the Spanish that conveniently fit some sort of gap in the English. Going to the country may work in England when one thinks of quaint cottages and meandering hedges. In the vastness of the Argentine pampa one goes to the "camp" a word anglicized by the dropping of the final Spanish o. I was 8 or 9 waiting for tram 35 to take me to my grandmother's flat in downtown Buenos Aires when an old man asked me if the "trambuy" (tramway) had passed already. I never saw my father wear
un esmoking
(tuxedo).
This shifting from one language to another, from one way of thought to another, from one bank of shared memories to another is very much like the partition of my computer hard disc into Disc D and Disk C. I wanted my friend Paul to re-distribute the partition into different percentages. The task was harder than we thought and it has yet to be done right. My computer has been protesting meanwhile. It would seem that it is mimicking the state of my brain these days as my Spanish Disc C whithers and sputters.
Juan Manuel Sanchez and wife Nora Patrich are not living together at the moment in Buenos Aires. They are seeking some sort of separation, and each is living with a new partner. This means that my warm friend Juan Manuel will not be returning to Vancouver. We will no longer discuss the merits of the description of wild gentians in the Alps of Thomas Mann's
La Montaña Mágica
(Chilean edition). It means that we will not glory together at the cuerpo plástico (Juan's description of a female model's beautiful body that inspires him to sketch and draw and me to photograph). This means that I will no longer share in the lively banter between Juan and the younger Nora as they work on their differences. This means that a whole Argentine experience, its history, its language, its music, its literature, its fauna and flora, its dance are lodged in my head with no way of seeing the light of day. I have nobody to share this with.
My grandmother taught me the glory and the richness of her husband Tirso's Spanish language. Tirso was a member of the
Real Academia Españo
la. I no longer consult her gift to me, a dictionary of the Academia. Its on line version
The RAE
is superior and at hand. But I remember my grandmother and Tirso every time I log on to the RAE.
I miss Juan Castelao, the Spanish conductor of the Vancouver Philharmonic Orchestra. It seems he will be staying in his hometown of Oviedo for a while. He was drier and more formal than Juan Manuel Sanchez. But we shared a love for the intricacies of our Spanish language and hot Nando's chicken wings.
We talked about music and I learned lots of the early compositions of Beethoven or such works as Bruckner's Symphony No. 0. I particularly miss his coming on Saturdays for his 35 minute piano class with Rebecca. We would then move to the dining room for lunch for a four-course meal of soup, rice, stew and Spanish. Our formality reinforced the uniqueness of the relationship in Vancouver. It felt as I always told Juan that we were penguins in the arctic. We are out of place (that Spanish side) and the shared experience keeps us together.
Some 35 years ago I met Cuban Jorge Urréchaga at Lomas High School. We were both teachers at the Mexico City school that catered to rich foreigners. Jorge taught English in spite of his slight accent. He and I conversed in formal Spanish with
usted
instead of
tu
even after we became friends. Jorge would come to the house and keep me up until the middle of the night (Rosemary would retire early and shut our daughter's bed room) as Jorge entertained me with opera arias from his favourite Andrea Chenier. Jorge had a beautiful voice but excelled at other things, too like bridge. He taught me the Schenken Convention. We won a lot at bridge. I soon learned why. Jorge had a prodigious memory for nicks and spots on cards. After ten minutes of play he had memorized a deck of cards. He knew what everybody's hands were by looking at the backs. Jorge took me to Bellas Artes to see and hear a young Plácido Domingo. He first took me to the TV truck to watch an act there. Then with pre-discussed code he would bang on the backstage elevator and we would see the second act from backstage. He knew which seats were used by the press. They were mostly vacant. We would finish our operas from there.
The best of Jorge was an experience that we shared with Rosemary. Jorge would call me in the morning that he had a tip. We would go to the Hipódromo de las Americas (the Mexico City race track) and meet up with his friend Isaac the Jew who had a hairbrush factory. Isaac knew his horses by the appearance of their hair. I suspect Jorge had other friends, too who were either bookies or Puerto Rican jockies of ill repute. We would then watch the races and only bet on the ones he indicated we could. That evening we would dine at the Alsacian food restaurant Sep's with lots of champagne. We could splurge with our winnings. It was wonderful to watch Rosemary laugh. She was as aware as I was of Jorge's darker side. This is what made him fascinating.
It was only many years later that I received a call from Jorge who told me he was in Vancouver for a visit. I picked him up in town and brought him home. It was refreshing to talk to him in formal Spanish. He had been recently married to another man in San Francisco. He had AIDS but he was all right. The "cocktail" was working. And then Jorge disappeared and I never heard from him again.
A copy of Arturo Pérez-Reverte's sixth Capitán Alatriste novel,
Corsarios del Levante
is waiting for me at Sophia Books. Perhaps I will pick it up today and read it in bed. It's a queen sized bed but it is big enough to accomodate my fellow readers, Jorge, Juan, Juan Manuel and Tirso himself.
I miss Juan Manuel Sanchez telling me he will not watch Argentina play on the TV. "If I watch them, they will surely lose." Like my father, Juan Manuel Sanchez always kissed me goodbye. I miss that. A lot.
Ona Grauer, Beautiful Design & Why I Am Not A Plumber
Tuesday, July 03, 2007
When I first met Ona Grauer who was working behind the bar at
Uphoria
I knew I had to find a way of taking her photographs. Luckily I wasn't a plumber and I didn't have to lure her to watch me fix a sink. I could simply say, "Two photographers, Ian McGuffie, Patrice Bilawka and I are working on a project. Would you like to be part of it?" She quickly replied, "Yes."
She came to my garden and I took a photograph of the four of us. I warned her that if at any moment, during our individual sessions with her, we were to ask her to undrape she was not to object. She told us that she had no problem.
The idea was that the four of us would not be together again until our one evening show at my studio a month later. We were to be abslutely secretive on how we were going to photograph her and she was not to hint to any of us how she was being photographed.
I had a session with her in my studio. The first picture you see here is from it. After that I decided on using Joe Cohen's collection of armour and broad swords.
I had no idea on how to combine the sword with my wish to photograph Ona in my garden. The day of one of subsequent many shoots in my garden she would parade without clothes and I kept telling her that even though the garden was sunken in relation to the street, pedestrians just might see her. Her comment was, "I am naked. So what?"
In my 30 years plus in Vancouver I have photographed many undraped beautiful women. In most cases Rosemary accepted it all with a resignation that I have come to admire and respect in her. But in the case of Ona, Rosemary developed a keen affection for her and understood what I was trying to achieve (even if I didn't).
With Ona I learned my paces on figure photography. Ona was always patient and faced my camera with an almost unsettling equanimity. Sometimes I thought she was the Sphinx. She always smiled and her good mood was constant. Just out of curiousity I asked her if she ever threw dishes at her boyfriend. She answered, "And why would I want to do that?"
A lot has been written of late about intelligent design versus Darwin's evolutionary theory. I would like to offer here a third option which I would call beautiful design.
Elegant Violence & Alison Griffiths Bites The Dust
Monday, July 02, 2007
Sometime in the early 80s freelance writer (now a respected author and sports broadcast journalist)Alison Griffiths joined a Vancouver all-female rugby team and proposed to Vancouver Magazine editor, Malcolm Parry a story on her experience. I was dispatched to shoot the team playing on various Saturday afternoons, including many rainy ones.
I had never had an opportunity to photograph a rugby game in spite of the fact that my O'Reilly nephews in Argentina were all rugby players (amateurs as the rugby leagues in Argentina are supposed to be so). In fact my nephew Georgito had even been a member of the Zebras.
This was a euphemistic name given to the Argentine National Rugby Team which normally were called the Pumas. Since the Pumas and Georgito played the Springboks in South Africa during the sports embargo, the Zebras played but everybody really knew they were the Pumas!
So I knew about rugby as I had attended many games in Buenos Aires during the mid 60s to watch my nephew play with the extremely snobbish CASI (Club Atlético San Isidro). It was here that I discovered the
tercer tiempo
(or the rugby third half).
Winning team and losing team would meet after the game and booze it up. I discovered that the ladies of the Vancouver rugby league honoured this excellent tradition. They even went as far as telling extremely off-color jokes during the drinking. I took pictures in the dressing room and I noticed that alcohol flowed freely. I voluntarily left the dressing room as I realized they were not going to tell me to leave.
By the time I finished shooting, after that month of following the team around, I thought I was almost good enough to shoot rugby.
I had almost gotten the hang of it. Alas the pictures never saw the light of day. Allison was hurt in one of the games (see picture) and when she went to the doctor she was told that she and her husband David Cruise were going to have a baby. And that was the end of the story.
Mexican Armpits - Astrantia major subsp. involucrata 'Shaggy'
Sunday, July 01, 2007
For any reader here who has had enough of my roses today's blog is on a flower that is not part of the Family
Rosaceae
but the Family
Apiaceae
. The flower is from the Genus
Astrantia
.
Of late I have been thinking about my older daughter (38) Alexandra Elizabeth. She is now four hours away by the not very good highway to Lillooet. This distance has made me think of her objectively. Ale has never suffered fools. But she has always moderated it with a tolerance that I find astounding. I would also say that gullibility is not one Ale's deffects.
This story really began some 34 years ago when we were living in Arboledas, Estado de México ( a suburb north of Mexico City). We owned a Volkswagen beetle and we had it serviced at the dealer (closer to the city on the freeway that Mexicans call
El Periférico
). When this happened I would have to take the bus from our house. This bus was a legendary bus of sorts as its route took it past every hospital and military barrack of the city and its environs. It had an identifying blue stripe (for those who could not read) and it was called
Circuito Hospitales, Cuarteles, Tlanepantla y Anexas.
One particular summer day, with Ale in tow we rode the bus to pick up our car. The stench of unwashed bodies in a hot summer day in the stuffy bus was almost unbearable.
My wife Rosemay seldom goes into rhapsodies about her individual plants. She makes no comment when I manage to pursuade her to come and gaze on some rose that I cite for being perfect. Curiously it was only a week ago where she pointed at one of her many
Astrantia major subsp. involucrata 'Shaggy'
and blew me away with a most uncharacterstic statement of fact, "This is a perfect flower." She has several astrantias including
Astrantia major
and
maxima
but the cool white and green variety Shaggy is by far her favourite.
It was five or six years ago that I cut some of her astrantias and put them into a vase to decorate our dining room for dinner. I noticed this unpleasant smell that took me back all those years to the
Circuito Hospitales
bus with the blue stripe. When Ale arrived later that day I pointed her to one of Rosemary's astrantias in the garden and I asked her to give me her opinion.
Since Ale has the same fondness for the same plants that Rosemary likes she nodded her approval. I asked her to smell them. "It's called the Mexican Armpit Plant, " I told her. A few days later Ale called me to tell me that she had gone to a local nursery in search of the plant in question and nobody there had ever heard of the plant!
Astrantias grow in our garden in the shade, in the sun and have a long flowering time. They don't have enemies and don't need much care. I tolerate their stench and remember fondly all those Mexico City buses that had names and coloured stripes. They had personality just like Rosemary'a astrantias. The stripes and the names of those buses were eliminated years ago and replaced with impersonal numbers. But
Circuito Hospitales, Cuarteles Tlanepantla y Anexas
lives on in our garden.