Terry Fox, Frank and Ian
Friday, March 31, 2006
When architect Frank Allen's Terry Fox Memorial, at the foot of Robson and Beatty Street, was inaugurated in 1984, it instantly became Vancouver's most hated structure. Could it be too small to reflect Terry Fox's huge feat? Nearby BC Place Stadium also dwarfs the structure. The monument is now mostly forgotten, even though there are many positive aspects to it. I met and photographed Frank Allen a bit later. He stuck to his guns and stayed in town in spite of the terrible and long media campaign against his memorial. Allen had a tidy little office somewhere on West 14th or 15th Avenue, just West of Granville. In the garden he had one of the fibre glass lions, that was the model for the four that grace each of the memorial's corners. I like to think of them as our
city lions
There is another lion on the top floor balcony of the Marine Building but that is another story. In the memorial arch walls there are two, 5ft by 18 ft, steel etchings. One is based on the iconic photograph of Terry Fox running and the other is a map of Canada showing his cross country route. I happen to know the artist on whose pontilistic style drawings the etchings are based. He is Ian Bateson. Ian has never believed in participating in fashionable or popular projects that might further his career. He believes in following his heart and his principles. As for the gentle Frank Allen I have no idea where he might be.
I took the memorial photograph here in one shot. I used a Pentax MX with a 15mm rectilinear wide angle lens and Kodak Tri-X. The beautiful Maddalena Di Gregorio placed her hand near my lens and I used a tiny flash. I kept the shutter open for 35 seconds at f-5.6. I processed the film in Perfection Micrograin using the technique called
extended range night photography
.
Ian
Vittorio Gassman
Thursday, March 30, 2006
The suave and handsome 6-foot-2 man in a herringbone jacket and striped tie who opened the door of a room at the Sutton Place Hotel (at the time it was the Meridien) reacted to my stare by stating, "I played centre in my secondary school basketball team." Genoa-born (in 1922) Italian actor Vittorio Gassman faced my camera. I was to wait as he had to create a character. He bent his head and closed his eyes. Ignoring an experienced film critic's warning on asking actors about former spouses, I mentioned Shelly Winters. Gassman's reaction was silence. Gassman, who suffered chronic emphysema, bronchitis, high blood pressure and depression died on June 29th, 2000, of heart failure in Rome. He told his final stage audience in February 2000, "Death does not obsess me - it disgusts me."
Jennifer Montgomery & Barbara Sukowa
Wednesday, March 29, 2006
These two women, one an American film director, the other a German actress are linked in my photo files by the positive and the negative. I photographed them both in the 90s in the Sun Room of the Hotel Vancouver. Both came for the Vancouver Film Festival. There the similarities end. I was struck by the intensity of Barbara Sukowa (right) who was in town to promote Lars Van Trier's
Europa
. It was difficult to hold her gaze. Behind the protection of my camera I asked her to look into it and, "seduce me." This she did.
Jennifer Montgomery had been seduced, when she was 14, by Jock Sturges, photography/art teacher, at a private boarding school. Years later the FBI wanted to nail Sturges for child pornography and attempted to coerce and intimidate Montgomery to testify. Montgomery refused even though the FBI went to terrible lengths, even as far as blackmailing her with the threat of publishing the nude photos that Sturges had taken of her. Montgomery prevailed and Sturges was off the hook. But years later, in 1995, Montgomery with her avant-garde film
Art for Teachers of Children
got even. In the film, the actor who plays Sturges, tells his young model to show more energy (plus more of those banalities that we photographers shower our subjects with). This results in the actress playing Montgomery to take off her shirt. With Montgomery facing my camera I was speechless.
Art for Teachers of Children
Sarah McLachlan, The Police and Malcolm Parry
Tuesday, March 28, 2006
Vancouver Sun journalist Malcolm Parry calls it the privileged position. If you are looking up at a tall building you are not in that situation. You have to be above and looking down. Another aspect of the privileged position is access. Access to celebrities has become doubly difficult since 9/11. The rock band The Police were the first to establish restrictions on when they could be photographed during a performance and they demanded that photographers sign contracts which prohibited most of the lucrative uses of the photographs. When I took these of the Police my access was incredible but I had to sign a contract that did not allow me to use any of them for T shirts!
I have always loved this photograph of Sarah McLachlan and her husband Ashwin Sood. I took it at Sarah's old house and there were no handlers around. Only the Straight writer, Alex Varty was there. I cannot imagine being able to take a picture like this now.
Bif Naked at Tony Ricci's Marble Arch
Monday, March 27, 2006
When I first met Bif Naked it must have been about 10 years ago. She sang in town with a band that could not compete with her stage presence. The last time I saw her she was driving (a poodle in one hand, the steering wheel in the other) a Jaguar with darkened windows.
I took some photographs of her in one of the rooms of the Marble Arch and also in my studio. I remember one time when Bif and I were having a drink in the Marble Arch bar. She was wearing a muscle shirt. Tony Ricci, the then owner of the Marble Arch, came over and I introduced them to each other. After Bif left, Tony asked me, "Who was that woman with the big...?" I was astounded. How could Tony have missed all those tattoos? Bif has always tried to act tough. The fact is that for this photo, when she placed her hand on her head, I asked her if she had ever taken ballet. She answered, "Yeah, for 6 months. Why, does it show?"
Filomena, Lauren Stewart & Chicken A La Barbara
Sunday, March 26, 2006
My Manila-born mother, Filomena de Irureta Goyena Hayward, could do anything. She played the piano, taught physics and chemistry, she gardened, danced the tango and could swim on her back effortlessly without a trace of a ripple on the water. She could not cook. In 1971 she returned to Mexico from North Carolina from visiting my uncle Antonio de Irureta Goyena armed with Marion Brown's
Southern Cook Book
. She lived with us at our little house in the outskirts of Mexico City in Arboledas, Estado de México. Nena proceded to dazzle us with her cooking. Our favourite was Adalyn Lindley's Chicken A La Barbara (Neiman-Marcus Tea Room, Dallas).
Today Rosemary decided to make Chicken A La Barbara. Returning from Rebecca's early morning ballet class on Granville Island, her sister Lauren Elizabeth (3½)giggled at the name when I told her of our lunch menu. But when she saw the platter on the table she indicated to us that she was not going to eat any of it. After lunch I commanded Lauren to stay at the table until she had three spoonfuls. She was not to go to the garden to play until she did so. Lauren, unlike her sister Rebecca, is not subject to the persuasion of logic. Since I was an only child I have never understood what it's like to be a second banana and I may have made all kinds of mistakes with her mother Hilary, who was second banana to our older daughter Ale. I will never comprehend the bond between brothers or sisters. With my recently discovered half brother I cannot accept the sharing of a father and I speak of my father not as "our" father but of George. It seems safer. After staring at her plate for an hour, Lauren told me she was ready to eat one spoonful and no more. I knew I was defeated. Soon she was out playing.
George, Leo, Enrique, Patricio and I
Saturday, March 25, 2006
In 1966 I received a call from my uncle Leo Mahdjoubian. He was an Armenian who had fought with the Black Watch in WW-I and had moved to Argentina after the war. He stayed at a pensión run by my grandmother Ellen Carter and soon was part of the family. Uncle Leo told me, "Your old man George has kicked the bucket. He died on the street and was taken to the Hospital Pirovano by a police sargeant. You have to go to the police station to sign a document." He told me he was sorry and rang off. At the police station the desk sargeant told me that there was some sort of mistake as my father's son had already been there and signed the papers. That's how I found out I had a half brother. I met Enrique the next day. I have no idea to this day how he was able to find my phone number, why it was Uncle Leo who called me in the first place, and how Enrique had learned of George's death. When I met Enrique, who spoke no English, I was struck by his resemblance to my father. He had the same blue eyes. Enrique was about 12 years older than I was. I met a couple of Enrique's sons. His sons looked more like my father than I did. Enrique offered to help pay George's funeral. With my $1.00 US Dollar monthly pay as an Argentine Navy conscript I was going to need need some help. I turned Enrique down. The sargeant, who had taken my father to the hospital, had called me. At a corner
boliche
(cafe) he placed in my hand a sum of money that subsequently paid for a modest funeral. The sargeant had removed all of my father's posessions from his pocket saying that in the hospital they would have disappeared. He told me he had known my father. My father (above, left) had been working to save up money to bribe a general to get me out of the service so I could go home to Mexico. This was the money he had found in my father's pocket. Years later, in 1989, Enrique (right), his son Patricio (left) and I sat for coffee at La Biela. Patricio took out a small stone from his pocket and threw it in my direction. "I went to George's grave at Chacarita Cemetery. He's not there anymore. A Mrs. Gomez is buried there. It seems you didn't pay for perpetuity. Maybe this stone was close to his bones before they threw them away." My mother, who was a beautiful swimmer learned to dance the tango with my father. Enrique's mother told me that she was not aware that my father had ever danced the tango, "George was an excellent swimmer and he taught me how to swim."
Buenos Aires Rowing Club
Friday, March 24, 2006
The Retiro train station in Buenos Aires could be anywhere in London if it weren't for the Argentine Spanish you would hear on the platforms waiting for the train to Coghlan where I lived as a boy. My uncle Freddy Hayward, who was born in Buenos Aires and worked for Glaxo, went back "home" to England every few years. He always wore his St. Andrews Scots School blazer when I was invited for tea. I liked to go because Aunt Iris made the best deviled ham in the world and both Uncle Freddy and I would smoke our Bewlay pipes (filled with Galloway's Three Nuns) after tea. Recently when I went to Buenos Aires in November 2004 with Rosemary and our granddaughter Rebecca I told Rebecca that my first cousin and godmother, Inesita O'Reilly Kuker spoke like the Queen of England. Strictly speaking it is the other way around as Inesita is 83 and so is older. Some years before, her husband Dolfi Kuker (who introduced me to the unique Argentine white wine made from torrontés grapes) took me on a tour of patrician Buenos Aires which included lunch at the venerable Jockey Club. As a young man I had spent weekends in the Paraná River delta called El Tigre. Each ethnic community had its own rowing club and I would lust after the women rowers with my friend John Sullivan (he was a conscript in the Argentine Army while I was in the Argentine Navy)who had a little bungalow on one of the thousands of little islands of the delta. We would identify the red, white and green stripes on the tips of the oars as those from the Italian Rowing Club while the red, black and white were the Germans. But our favourites where the English ladies who rowed with white and blue striped oars of the Buenos Aires Rowing Club. Alas! When Dolfi Kuker took me to their club house all we found were these handsome young men.
Veracruz
Thursday, March 23, 2006
This is one of those lucky photographs that just happens. I took it in Veracruz in 1968. It was the "norte" season so the wind was blowing on the seaside promenade called the
malecón
. I had married Rosemary a year before in Coyoacán, Mexico but I courted her in Veracruz where my mother lived on Pinzón Street. I have a feeling that our first daughter Alexandra Elizabeth may have been conceived in what really is one of the oldest cities of the New World. It somehow feels inevitable that Rosemary and I will return. I often wonder what it would have been like to have been around when the Three Times Heroic City of Veracruz( in one of the three incidents pirate Henry Morgan raped and pillaged it) witnessed the landing of the American army during the Mexican American War. There was a young captain in the US Army who, with his genius, managed to organize things so that Veracruz fell without much bloodshed. The young Captain was Robert E. Lee.
Gone For Soldiers
Chris, Mac and Malcolm
Wednesday, March 22, 2006
When the digital revolution was in its infancy, when everybody seemed to be home publishing and anybody with a Macintosh could and did print their own business cards, the man on the left (Chris Dahl) knew what was coming. Crossing Burrard at Nelson with Chris some years ago, I remember that afternoon vividly. He said, "No matter what happens you and I will always be in demand. They will hire us for our eye. Eyes will never be obsolete." The man on the right, Mac Parry, has lived three periods of his life in BC after he arrived from England around 1969. Of his first I know little. Of his second,I met him in 1977 when he was editor of
Vancouver Magazine
. We all knew him as Mac. In his present third period as gossip columnist for the
Vancouver Sun
, he is known as Malcolm. With Chris's art direction and Mac's editing Vancouver Magazine was the best magazine I ever worked for and many thought and still think this. This photo was taken in 1983 when Vancouver Magazine demolished the Toronto Mafia to win the National Magazine Award for the best magazine of the year. I remember one day in early February, 1982 when Mac took me to the Cecil Hotel. He told me, "Sean's (Rossiter) cat has cancer. He's written a story about it. Go home and photograph your cat. Make sure his whiskers are sharp because we're putting him on the cover." For about a week before the magazine went to press I was on a high. I was going to have two covers on the same magazine in the same month. Mac almost convinced publisher Ron Stern to have Gaticuchi (my cat's name) on the cover for half the press run. In a different area of the city my photo of a stripper in tub at the Cecil Hotel, illustrating a story by Les Wiseman was going to be the alternate cover.
Francisca Darts
Tuesday, March 21, 2006
Francisca Darts was 90 last week. She and her husband Edwin bought a 7.5 acre untilled bush in Surrey, BC in 1943 and turned it into a botanical garden that is the only private garden (after Edwin's death Francisca donated Darts Hill to Surrey as a Concervancy Trust)in BC that can compete with the UBC Botanical Garden and VanDusen in botanical richness. When you visit Darts Hill you will see a botanical diversity that is more astonishing when you realize that most of the huge conifers and broad leaf tress were all planted by Francisca from seed. Through the green coat tails of my wife, who is a member of the BC Alpine Garden Club, I have been able to meet and enjoy the company of Francisca many times. I particularly remember her "show and tell" after the somewhat dry and long BC Alpine Garden Club meetings. She would enthusiastically bring plants from her garden that had caught her eye that day. It was about 10 years ago that Francisca's hands began to shake and she would spill coffee on herself. She once told me, "Darn when I hold my plants my hands don't shake." It was at her garden many years ago that I first saw my first good specimen of an
Osmunda regalis
commonly called a Royal Fern. I often tell my granddaughter Rebecca that our plants talk to us and tell us they need more light or more water. When they grow well I almost think they are telling us they are happy. But Francisca is the only gardener I have ever met who talks to her plants. This she told me. I believe her. The proof is in Darts Hill.
Darts Hill
Baroness James of Holland Park
Monday, March 20, 2006
At 2 p.m. on October 21, 1996, I had an appointment with Baroness James of Holland Park. Phyllis Dorothy James (75) was at the Renaissance Vancouver Hotel Harbourside. I was to address her as Baroness James. I wore a suit. Although I might not have looked at her twice if I had run into her shopping at Harrod's, the plainly but immaculately dressed P.D. James looked at me with the dissecting eyes of a surgeon and, pointing to her window overlooking the harbour, she asked me: "What are those?"
"Those, Baroness James, are de Havilland Beavers, the truly Canadian float planes." She wanted more. Fortunately I had worked with writer Sean Rossiter, whose the
Immortal Beaver: The World's Greatest Bush Plane
, had just been published by Douglas & McIntyre. "The curious fact about this book, "I told her, "Is that the author had the idea while drinking beer at a local pub with a quintessential English name, the Marble Arch." Baroness James smiled when I chose to ask her about her science fiction novel
The Children of Men
instead of her Dalgleish mysteries.
Above right is an unusual version of the de Havilland Beaver as this one is equipped with wheels to land on land. I took the photo in Campbell River.
Beaver
The Children of Men
William Adrian Lockhart Reid (aka Patrick), the Mig 29 and the Canadian Flag
Sunday, March 19, 2006
Donegal born Patrick Reid was first in his class from Sandhurst in 1944. As a young tank commander (even though he loved airplanes) in the North Irish Horse in Italy, he played polo on captured German Army horses during the lulls in the heavy fighting. He came to Canada in 1949.
When Lester Pearson called Patrick Reid, late in October 1963 to get the quagmired proposal for the new Canadian flag in some order, he did a quick vexillogical research and went home. He and his wife, Allison, agreed the flag should be identical on both sides and a child should be able to draw it. Designer Jacques Saint-Cyr reduced the original 23-point sugar maple leaf to 13. Reid suggested the axing of an additional two. The original prototype (on a bedsheet sewn up by Joan O'Malley) was delivered to Sussex Drive in Ottawa on November 8, 1964. The national flag of Canada was raised on Parliament Hill on Feb 15, 1965.
I have photographed Patrick Reid many times but my favorite photograph of him is this one I took in 1989 with a Mig 29. It always thrills me to run into him in Kerrisdale. It seems I am one of the few in on the secret: Reid is a living, walking designer of our national flag!
Flag
Liv Ullmann
Saturday, March 18, 2006
Sometime in mid June 1990 writer John Lekich was assigned by the Georgia Straight to interview Liv Ullmann who was in Vancouver as a UNICEF ambassador. I tagged along as the photographer. The setup was a nightmare as the journalists and photographers were herded into a fairly large and ornate conference room at the Hotel Vancouver. On one end of the room there was a Louis the 15th table. Liv Ullmann was sitting behind. We were told to sit on a row of chairs on the opposite end of the room. Journalists, when their turn came up, were told to stand up and ask their questions. Some asked embarrassing questions. Ms Ullman graciously answered them without putting them on the spot. When John Lekich's turn came, he did the unexpected thing. He went up to Ullmann's table and he moved a nearby chair. He sat down and whispered the questions. In a roomful of journalists, John got his private interview. Taking his cue, as soon as he finished, I moved my lights and camera to the desk. Ms Ullmann looked at me and said, "Don't ask me to smile."
Few know that Liv Ullmann was born in Tokyo and that she is Norwegian by nationality. Her ownly Swedish connection is her work with Swedish director Ingmar Bergman.
Liv Ullmann
Linn Ullmann
Lolita and the Manila Mango
Friday, March 17, 2006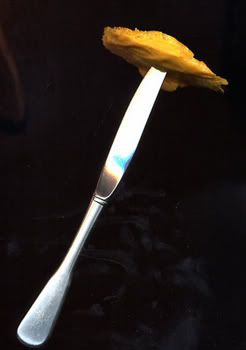 Maria de los Dolores Reyes de Irureta Goyena, my grandmother, (here in Madrid in 1913 when she was 22), lived in Manila where she spoke Tagalog and English, because the Americans had occupied the Phillipines after the Spanish American War. Indeed, one of my grandfather Tirso de Irureta Goyena's uncles was one of the Spanish generals who surrendered to Admiral George Dewey in 1898 in the Battle of Manila Bay. My grandmother lived with us until I was 21 and she taught me many things besides a love for the Spanish language. She often told me that Tirso was one of the few, if the only, Filipino member of the Real Academia Española which is the final authority of the Spanish language. Lolita taught me to appreciate the arts, specially music. We both loved sweets and she showed me three ways of eating a Manila mango. In the 1500s the Manila Galleons sailed to Acapulco in Colonial Mexico. Two chinese farmers brought with them pits of Manila mangoes and they planted them all (except for a few) in Acapulco where they did poorly. They travelled by land to Veracruz where they planted the remnants. To this day the best Manila mangoes in Mexico grow in Veracruz. My granddaughter Rebecca loves mangoes and insists on eating them with Lolita's favourite method. The mango is sliced lengthwise with a sharp knife on both sides of the pit. These are scooped with a spoon. The pit is then carefully put on a plate and, with a firm hit of the the palm, a table knife is punched in. Here it is, right before Rebecca went after it with gusto.
Mangoes
Real Academia Española
Don Tirso de Irureta Goyena
The Dexterous Sam Sullivan
Thursday, March 16, 2006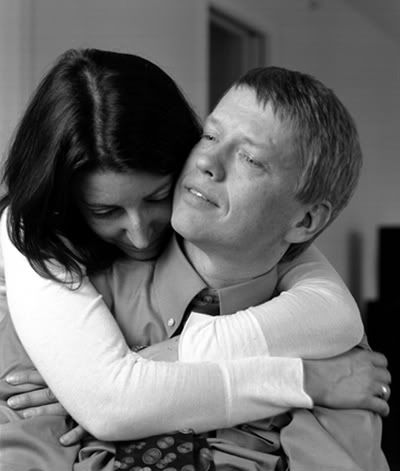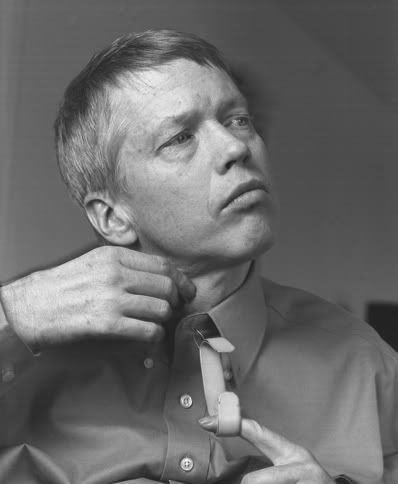 Dexterity: 1527, from M.Fr. dexterite, from L. dexteritatem (nom. dexteritas), from dexter "skillful," also "right (hand)," from PIE base *dek-, cf. Gk. dexios "on the right hand," also "fortunate, clever;" Goth. taihswa; Skt. daksinah "on the right hand, southern, skillful;" Lith. desinas; O.Ir. dess "on the right hand, southern." Klein says the PIE base meant "to take, receive," also "acceptable, becoming, good." The Gk. and L. forms are with the comp. suffix -ter, thus meaning etymologically "the better direction." M.E. dester meant "right hand," and in heraldry dexter means "on the right side."
My camera and I spent two days following Vancouver Mayor Sam Sullivan( above with Lynn Zanatta)at home and at work. When I asked him to pose for me, invariably, my idea involved manual dexterity that I have taken for granted for too long. I soon realized that there are two important definitions of dexterity. The one that Sam Sullivan has in spades is the mental kind. But he is more manually dexterous than people suspect. He wraps his arms behind his wheelchair and pulls. This action causes spasms which give him temporary, but limited, use of his hands and wrists. I watched, with amazement, how he buttoned his shirt with a special device designed for his limited hand movement.
For two days I watched Sam Sullivan listen to people. After two days, mentally taking his place, I wanted to be alone and not listen to anybody. It was a relief to go home and do that. Even if Sam Sullivan can find some silence he can never leave that wheel chair behind. It is far more implacable than my own shadow.
Frank Dorsey 1927-2006
Wednesday, March 15, 2006
Imagine listening in to a conversation between two men. One says to the other, "Mine is smaller than yours." Indeed this would be a normal comment if the men were alpine gardeners (also called rock gardeners). But the consumate Vancouver alpine gardener Frank Dorsey , big and tall, with a voice much like Sean Connery's was much too polite to ever boast about his perfect and very small dwarf conifers and alpine plants. At Alpine Garden Club of BC meetings and shows he always went home with the most ribbons. He was a Friend of the Garden (FOG) at UBC for 16 years. Anybody who ever went to the yearly Mother's Day plant sale at the UBC Botanical Garden to line up at 7 am will remember Frank and his voice. With raffle tickets in hand he would loudly flog the delights of
Meconopsis betonicifolia
(the Himalayan blue poppy) and
Cardiocrinum giganteum
. But Frank's plants weren't always small. As a 20th century version of the 19th century British amateur gardener he loved and promoted all plants. I have a still small
Rhododendron cinnabarinum
that I bought from Frank. With its rich cinammon colored indumentum this is one of the most beautiful rhodondendrons. But more beautiful still was the way Frank pronounced that. Alas, he died Monday morning and I will never hear that voice again. I will miss him. Above you can see Frank in his garden holding a treasured selection of
Rhodohypoxsis baurii
a little bulb plant from South Africa.
Alpine Garden Club of BC
Rhododendron racemosum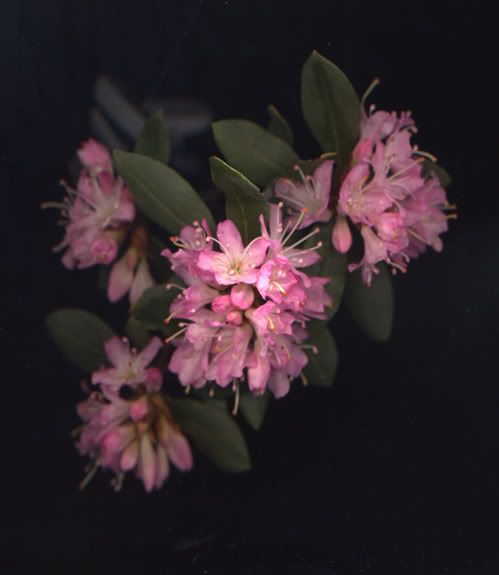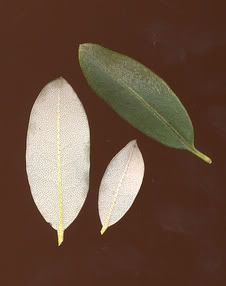 By the first week of March my 5 ft tall
Rhododendron racemosum
is in bud and by the 14 it is in full bloom. You can see above a raceme that I scanned yesterday. This little guy (the leaves are no larger than 4 cm) is from Yunnan, Sichuan and Guizhou provinces in China. French missionary Père Delavay introduced it to the West in 1889.
Rhododendron racemosum
is a lepidote (scales on the underside of its leaves) from the Subsection Scabrifolia. In Vancouver there are still too many bright or lurid colour hybrids that were in fashion 40 years ago and few realize that there are fragrant rhododendrons (
Rhododendron loderi
'King George' smells like a ripe watermelon) , rhododendrons that can grow in Yellowknife or that azaleas have been promoted and are now classified as rhodos. For me the most interesting feature of a rhododendron is its leaf. There are leaves that can be over a foot long (
R.falconeri
) and there are leaves no bigger than the nail of the little finger. In cold weather the leaves of some rhododendrons retract downwards like an angry cat. For years I never noticed a feature of my racemosum which many rhodos have. This is the indumentum (the coating on the back of a leaf). The indumentum can be bright red, brown, white, metalic blue and the texture can be like fine white sandpaper (as in my racemosum) or it can be as smooth as the inside of a cat's ear. When my wife Rosemary and our granddaughter Rebecca walk in VanDusen or at the UBC Botanical Garden, which is supposed to have one of the largest rhododendron collection in North America, we like to inspect the underside of the rhododendrons. Rebecca is always delightfully surprised.
UBC Rhodos
indumentum
Get Modern or get.......
Monday, March 13, 2006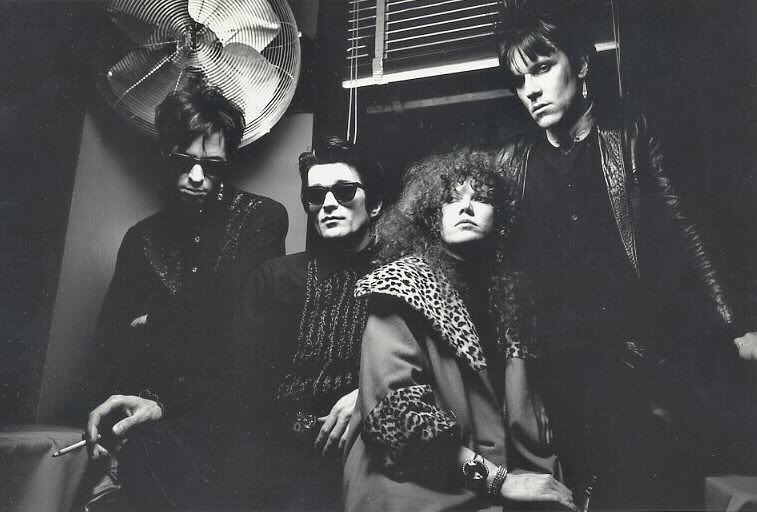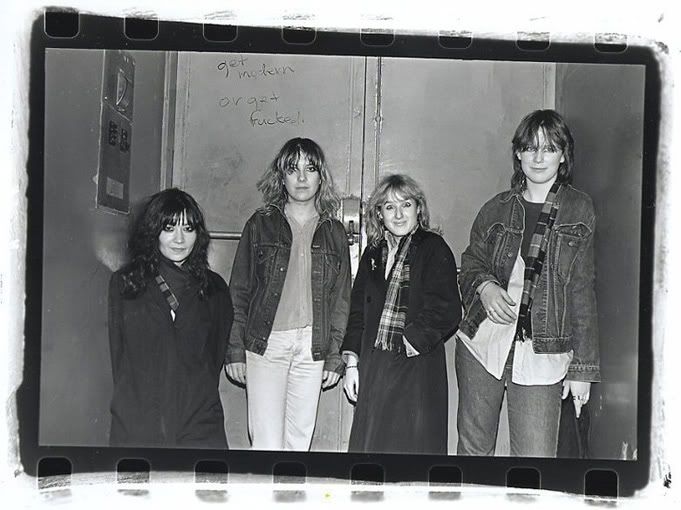 Until I came to Canada in 1975 I had no real knowledge of rock and roll. In Mexico my high school students had asked me if I had ever heard of Alice Cooper. My answer of, "No, who is she?" didn't help improve my rating as an uncool teacher. So I tried to like some of the stuff. My favourite was the
Allman Brothers Band Live At The Fillmore West
. Through working with Les Wiseman at Vancouver Magazine from the late 70s on I began to get my education. Les wrote a column on rock music called
In One Ear
. He called me Lenso the Argentine Lensman and would talk to me beginning with the expression, "As your attorney ...." I had no idea who Hunter S. Thompson was. I remember the day Les told me, "We critics are really not supposed to like heavy metal. So as your attorney I suggest you listen to Motorhead. I like Motorhead." One day in the 80s Les called me and told me we had to do something important. So we drove all the way to Boston Bar and back listening to Lou Reed. By May 1982 when I photographed the Cramps(above,left) backstage at the Commodore I was well on my way to becoming a rock snob. One of the best pieces Les ever wrote was on them. I remember going backstage with Les for the interview. A very large tray was passed that had strawberries and pineapple slices on the edges. In the middle was the largest mound of what look like an overturned sugar bowl I have seen outside of the movies. But it was Buck Cherry and Mary-Jo Kopechne's Modernettes that left a lasting influence for me. This circa 1980-83 Vancouver punk band had a motto that they painted sometime in 1979 on the back door of the Smilin' Buddha. It has been my inspiration in helping me stay competitive in this digital revolution. Here you can see the motto behind that other seminal Vancouver punk band, the Dishrags. From left to right it's Jade, Scout, Sue and Kim
Corey Cerovsek, Fritz Kreisler, A Little Girl and a Lemon
For years Vancouver art connoisseur David Lemon(above,right) has been promoting and backing efforts (with lots of his own money) to make English composers well known. A sure way to make this cheerful man scowl is to ask him, as I once asked him, "Is it true that there are no great English composers after Henry Purcell?" Slowly but surely I have come to appreciate these English composers that Mr Lemon champions. My friend Juan Castelao (Musical Director of the Vancouver Philharmonic Orchestra) told me that Edward Elgar's Violin Concerto in B minor, op 61, was not only difficult (and 45 minutes long) for the soloist but also for the orchestra. So it was with some uncertainty that I took my 8-year-old granddaughter Rebecca(bottom right) to today's performance of the Elgar violin concerto by the Vancouver Symphony Orchestra, directed by Kazuyoshi Akiyama with Corey Cerovsek as the soloist. Rebecca was a bit under the weather and I told her that one uncommon luxury, one should never feel guilty about, is to sleep to good music. She slept through the Allegro, but Corey's passionate performance won out and she was wide awake for the Andante and the Allegro molto. While listening to this complex, but lovely concerto, it ocurred to me that there was a bit of Fritz Kreisler's spirit hovering over the audience at the Orpheum. It was Kreisler who first performed the concerto in 1910. For his score Elgar wrote an inscription borrowed from the Spanish from Alain-Rene LeSage's novel
Gil Blas
. It reads,
"Aqui está encerrada el alma de....."
or "Locked here is the soul of....." Before taking photographs of Corey Cerovsek (above left) a third time with the stigmata of an f hole on his hand, Rebecca and I celebrated the pleasant afternoon with tea at the Fairmont Hotel Vancouver.
There will be one more performance of the Elgar violin concerto tonight.
Corey and the VSO
Linton Garner and His Peck Horn
Sunday, March 12, 2006
I don't listen to music much anymore when I'm at home. I do go to concerts of baroque and classical music. When I can find some new music concerts I go to those, too. But I don't go to jazz concerts. All of my faves are dead. I have also discovered that just like I have a very good memory for the scent of roses I can listen to music in my head without the CD player. On good days I can remember the voices of some of the jazz players I have met. One in particular is the voice of the gentlemanly J.J. Johnson with whom I had a drink at the Iridium in New York City. Another I remember fondly is the voice of pianist Linton Garner, whose brother Errol was better known. Here you can see Linton when I photographed him in 1997 with his Eb peck horn. My favourite question to ask Linton between sets at Rossini's, where Linton played until he died on March 6, 2003, was: "Linton I understand you are from Pittsburgh. Is there anybody else from there?" His answer was always the same, "There's Roy Elridge, Ahmad Jamal, Art Blakey, George Benson, Kenny Clarke, Stanley and Terry Turrentine, Ray Brown, Billy Strayhorn, Earl Hines, my brother Eroll, Billy Eckstine....." and he would go on and on. So I would interrupt him with, "Who's not from Pittsburgh?" His answer was always the same one, "J.J. Johnson, he's from Indianapolis."
Paganini, the Devil and Corey Cerovsek
Saturday, March 11, 2006
In 1987 both Saturday Night and Vancouver Magazine asked me to photograph the 15 year-old child prodigy violinist Corey Cerovsek. Saturday Night requested I try to capture that scary devil-like virtuosity that many people thought Nicolo Paganini had had. I tried to impress the young man by playing a tape of Lalo's Symphonie Espagnol in my studio. When Corey arrived, in a very offhand way, he told me that my tape deck was off by so many revs per minute because b flat was ....... The young man had perfect pitch. For Vancouver Magazine I was given free reign so I decided to make Corey look like the boy he was. Unfortunately my vision of him included a striped T shirt and he had none. I brought one of mine which Corey liked so much that I give it to him. In October 1996 Corey returned so I asked him if I could photograph him again with the f holes in his hand. Before the shoot we had a beer in Yaletown. Corey reminded me, again in an offhand way, that the violin under the table was insured for millions of dollars. The violin Corey plays now is the "Mianollo" 1728 Stradivarius which at one time was played by Nicolo Paganini.
Corey Cerovsek plays the Elgar: Violin Concerto in B minor, Op. 61 this weekend with the Vancouver Symphony Orchestra.
VSO
Furnarius rufous
Friday, March 10, 2006
Thinking about Uruguay has further accentuated my longing for the open space that is the Argentine pampa. My parents would send me every January, during the school holidays of the Argentine summer, to
estancias
(ranches) in the province of La Pampa or once to a little one called Glen Rest in the somewhat hilly country of the province of Córdoba. Be it it pampa or the hills, wherever there was a fence post, I would see the ubiquitous baker-oven like nest of the the Hornero or
Furnarius
rufous
commonly called the Ovenbird. To protect its chicks the Hornero builds what really is an adobe structure with dirt, straw and lots of saliva. The nest has a twisty nautilus-like entrance that is supposed to ward off snakes and other predators. In another bout of Argentine nostalgia I decided to photograph the exquisite (and Argentine) Linda Lorenzo as an Hornero.
Hornero
Nostalgia
Uruguay at the Ian Tan Gallery
Thursday, March 09, 2006
Uruguay is one of the great forgotten countries of the world. My guess is that more people know of the existence of Paraguay than of Uruguay. Its official name is
La
República Oriental del Uruguay
. We Argentines call them
orientales
. They are Oriental because their country is on the
banda
oriental
or eastern side of the Uruguay River. In 1942 Domingo Tortorelli, a vegetable shop owner, ran for president (and vice president, senator, and representative!) and promised that if he were elected:
1. He was going to build a highway from Montevideo to the port of Colonia that was going to be downhill both ways.
2. Each neighbourhood corner would have tap of free milk (for children) and one of wine for adults.
3. A special roof was going to soar over Montevideo to protect its inhabitants from rain.
But it is in Uruguay, like in my native Argentina where one can go to the pampa and look at the horizon in a 360 degree sweep without the horizon being broken except for a clump of trees that indicate some sort of dwelling. As a little boy I would take my slingshot to the
campo
in the hopes of downing a rhea (the South American relative of the ostrich). I would get chunks of concrete from the
estancia
(ranch) because once I was on the pampa there would not be a pebble or a stone to be found. When I saw this painting (done only with a palette) by Uruguayan artist Erika Toliusis I felt a sudden rush of nostalgia for my country and for Uruguay. There is a show of her work at the Ian Tan Gallery beginning on March 11. Above is Erika Toliusis's Surrounded 2005
Ian Tan Gallery
Don Giovanni, The Preacher, The Musical Director & The Real Estate Agent
Wednesday, March 08, 2006
Tuesday night I went with Rosemary to a Vancouver Opera performance of Mozart's Don Giovanni. We arrived in time (the opera begins a half hour earlier now, at 7:30)for
The Preacher of the Opera's
(Doug Tuck, right)always interesting pre opera chat. Without having any Spanish blood that I know of, baritone Brett Polegano seduced all the women on stage and most of us in the audience. At the intermission I went to the orchestra pit. I was surprised to see that on Jonathan Darlington's podium there was an exquisite red Craig Tomlinson harpsichord. More surprising still, Ray Nurse, Vancouver lutenist, lute,etc maker, baritone, music schollar, etc was carefully tuning it. I had forgotten that the English musical director of the Vancouver Opera (top left)likes to play the harpsichord for Mozart operas while also conducting. Craig Tomlinson is a successful West Vancouver real estate agent who makes the most beautiful and colourful harpsichords I have ever seen. Ray Nurse says their sound is exceptional, too. Don Giovanni will be performed again on the 9th, 11th and the 13th. There is still an opportunity to feast your eyes on that instrument. Doug Tuck's chat is at 6:40.
Vancouver Opera
Craig Tomlinson
Karen Gerbrecht - the Anti Violinist
Tuesday, March 07, 2006
When I go to concerts of the Vancouver Symphony Orchestra I take my special Pentax roof prism binoculars so I can focus them on Karen Gerbrecht, the associate principal second violinist. She has red hair and most often breaks all kinds of symphony dress codes. There is something about her that makes me suspect she is from the 19th century and came to us on a visit in her time machine. I have had the pleasure of taking her picture three times. Here we were thinking about and anti violin pose. Sort of, how to pose with a violin in a way that hasn't been done before. This was Karen's idea. You might just notice that she tied her wrists with a strap.
VSO
Osmond Hudson Borradaile - The Man Who Found Sabu
Monday, March 06, 2006
I photographed Osmond Hudson Borradaile twice. In 1979 and in 1989. The second time around he told me he expected to live to be one hundred so he could receive a special letter of congratulations from the Queen. He was correct as when he died in March of 1999 he was 100. Tonight is Oscar night and I remembered that Bordie (as he was affectionately called by all who knew him) shared an Oscar with Georges Perinal for
Four Feathers
. In 1934 Borradaile had done the exterior shooting of
The Scarlet Pimpernel
Furthermore when I think of him I think of an obituary that Paul Theroux wrote for the New York Times when Graham Greene died. It was titled
An Edwardian on the Concorde
. Born in Winnipeg in 1898 Borradaile worked in the film industry from the silent era to well into his 60's. Not mentioned in any of his bios is that he was freelance cameraman in Vancouver in his late 70s. He worked with Rudolph Valentino and Gloria Swanson and shot the aerial footage of Howard Hughes' 1930
Hell's Angels
. It has yet to be determined who really directed the 1937
Elephant Boy
. Was it Robert Flaherty, Zoltan or Alexander Korda? What is known is that Borradaile spotted a nine-year-old boy in the stables of the Maharajah of Mysore. This boy became Sabu. And of course Borradaile did all the exterior work in the Sudan for Alexander Korda's Technicolor 1939
The Four Feathers
.
But what I remember best about Bordie are his exquisite and technically perfect 1930s photographs (taken with a Leica) of India and the story he told me on how he came to photograph Ethiopia's Emperor Haile Sellasie triumphantly entering a liberated Addis Ababa with Brigadier (Chindit) Wingate in 1940. Borradaile was shocked to see the state of the emperor's clothes. He told him he cold not enter the city in that state. So Borradaile borrowed a uniform from Wingate. In the photograph here you can spot the picture of the proud Emperor in his brigadier's uniform.
The Two Williams and James Jesus Angleton
Sunday, March 05, 2006
With my wife Rosemary in Victoria for a Perennial Study Weekend I indulged in reading while eating; not washing the dishes, and watching the DVD version of
The Whistle Blower
, a spy movie I had seen when it appeared in 1987. With the CIA and El Busho's shenanigans of our present times the issues raised in this movie(the distruction of individuals to protect the questionable morality of the powerful) with Michael Caine and John Gielgud, seem to be hot off the press. Michael Caine is one of my favourite actors, specially when he plays secret agents. The Canadian connection here is that Christopher Plummer turned down the role of Harry Palmer in the 1965
Ipcress File
which subsequently Michale Caine made his own. After seeing the
Whistle Blower
I thought of two American conservative authors, William F. Buckley(above) and William Safire (left). Both wrote an excellent spy novel. In 1995 I talked about
Sleeper Spy - A Novel of Deception
with William Safire in a Seattle hotel room interview. While indulging in chocolate covered strawberries Mr. Safire told me all about the mysterious CIA head of counternintellingence, James Jesus Angleton. This novel was as good as William F. Buckley's 2000 novel
Spytime
-
The Undoing of James Jesus Angleton.
I must note that Mr. Buckley refused to pose for me at the piano bar of the Hotel Vancouver until I asked him to autograph my copy of his awful paperback novel,
Saving the Queen
.
Harry Palmer
William Safire
Saving the Queen
the Orchid Man
The Brandenburgs on a Desert Island
Saturday, March 04, 2006
Sometime in 1963 I discovered Bach through my mother's Concertgebouw Orchestra recordings of his six Brandenburg Concertos. My mother, Filomena de Irureta Goyena de Hayward (left), played the piano beautifully but chose to teach physics and chemistry in high school, instead. She told me that she could live happily on a desert island with only the Brandenburg Concerti for company. I have had a soft spot for them ever since. In 1964 I heard the Swingle Singers scat through Contrapunctus IX, Fuga á 4 voci, alla Duodecima. I wore my Phillips record out.
So I went to a special concert of the Pacific Baroque Orchestra this Friday, March 3, at St James Anglican Church (Gore and Cordova)with great anticipation. Both the fugue and the No 4 Brandenburg in G Major were on the all Bach program. The acoustics of St James were like Meldon Salt flakes on a vine ripened tomato. The program began with five fugues including my fave. Colin Tilney (a distinguished diet version of Santa Claus)made me almost want to like the harpsichord in Bach's Concerto in E Major BMV 1053. The second movement Adagio for the Trio Sonata in E flat Major was exquisite. Just when I thought it was over it managed to repeat twice more. The players played with such fun that I was jealous that all I could do was listen. The finale Brandenburg was a contrapuntal contest between Marc Destrubé's virtuoso violin (above) and Stephen Creswell's viola. For just a moment I thought the viola was going to spontaneously catch fire, with no joke intended.
The concert repeats today Saturday and Sunday.
PBO Concert March 4 and 5
Don Juan
Friday, March 03, 2006
In 1844 Spanish poet José Zorrila y Moral (1817-1893) wrote Don Juan Tenorio. This play is very popular today, particulary in Mexico, where it has runs during, before and after el Dia de Los Muertos in November. The legend of the lothario Don Juan began in 1600s Spain. Mozart's opera Don Giovanni is probably the best known of all the versions about the ladies' man who goes to a burning hell in the end. So when I was assigned by the Georgia Straight to photograph Canadian baritone Brett Polegato, who plays Don Giovanni in the Vancouver Opera's production this Saturday, I knew I had to bring in the idea of fire. Publicist Emma Lancaster told me she had the costumes but no wig was available. In the end I think this was a good as the fun Brett Polegato made an excellent contemporary tenorio. After taking ten pictures I selected one of the better negatives and lit it with matches so that the edges melted. The negative warped so that it cracked in spots. I scanned the sorry mess in my Epson 1640 SU flatbed scanner.
Vancouver Opera's Don Giovanni
The Kiss
Thursday, March 02, 2006
To this day I can remember being kissed by my father. I can even conjure his smell. It was a combination of a long forgotten aftershave of the 50s, the Player's Navy Cut tobacco he smoked and the Old Smuggler's whisky he drank. I don't allow too many men to kiss me or do I kiss them. But here are two men who caught me off guard. One twice and the other four times. And I will never forget.
When I photographed Russian poet Yevgeny Yevtushenko(above) we found out we shared a language. I spoke my Argentine Spanish and he a fluent Cuban. We hit it off and he liked his pictures so much he kissed me, Russian style on each cheek in combination with a bear hug that almost collapsed my rib cage. But it was Mstislav Rostropovich (called the Human Cello by Yevtushenko in his novel
Don't Die Before You're Dead
)who really surprised me. After a concert at the Orpheum I went to his dressing room to give him some of the photos I had taken of him. In the presence of many people he called me, "Maestro," and then proceded to kiss me twice and then again!
From "Goodbye Our Red Flag"
.. . . I didn't take the Tsar's Winter Palace.
I didn't storm Hitler's Reichstag.
I am not what you call a "Commie."
But I caress the Red Flag
and cry.
Yevgeny Yevtushenko
Yevtushenko
Rostropovich
Nicolás Guillén and the Switchblade
Wednesday, March 01, 2006
In 1967 my very Argentine but very communist aunt, Sara Lopes Colodrero de Irureta Goyena gave me three parting gifts when I left Buenos Aires. I shoved off in an ELMA (Empresa Lineas Maritimas Argentinas) Victory Ship called the Rio Aguapey. She told me that on board a long voyage stopping at many Brazilian ports anything could happen. "You will need this sevillana (switchblade)and so that it will open swiftly I am giving you this little bottle of whale oil. Whale oil is the best. And finally you will have plenty of time to read. I am giving you my copy of Cuban poet Nicolás Guillén's (1902-1989)
Sóngoro Cosongo
." I lost touch with Tia Sarita and the whale oil is long gone. But I still have the sevillana and I often read
Tú no sabe inglé
which is one of my favourite poems. I never had to use the switchblade on board the Rio Aguapey. I wasn't to know until 2000 that she had been built in North Vancouver.
Nicolás Guillén